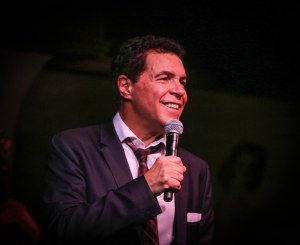 A few seasons ago, when he made his dazzling debut at Café Carlyle with a swinging tribute to the late, great Bobby Short—the after-dark icon who used to "own" the space—a few nags found Las Vegas headliner Clint Holmes a bit too forced and glitzy for the close proximity imposed by a sophisticated Manhattan supper club. I found him next door to terrific. In his third appearance, currently brightening up the room through Saturday night, he has mellowed even more and learned the value of palpable intimacy. He has been around for four decades, but he's just now hitting his stride, winning new fans and sailing into well-earned stardom. With phrasing warmer than anybody since Johnny Hartman and a laid-back personality as friendly as it is inviting, Mr. Holmes is one of the best musical additions to the waning scene of New York nightlife since, well, Bobby Short left the building.
The new show is called Stop This Train, because, as he states in the wonderful title tune by John Mayer that begins and ends the evening, when he was going through the problems of youth, he wanted to stop the train of life and get off at the next stop. ("So scared of getting older. I'm only good at being young.") Then came the day when his father wisely reminded him that the older you get, the more you want to keep the train going. ("He said turn 68 you'll renegotiate.")
The show is about all the stops, high and low, between stations. Musically, his family life provides the narrative—memories of being an outsider in a small town near Buffalo, the son of a compassionate mother who was a white, British opera singer and a hard-swinging father who was a black, American jazz singer. They met at a dance while the bombs fell on London in World War II to a love song ("Imagination") and carried their love to America, where Mr. Holmes grew up surrounded by Ella and Ellington, Wagner and Verdi—in equal doses. Encouraged by his parents to try out his vocal gifts at home, then to share his talents with the world, he finally ratcheted up the courage to make his solo club debut in Paris.
A solid section of the show is devoted to French girls, French songs and French passions, new and old—from "C'est Si Bon" and the Beatles' "Michelle" to Cole Porter's "C'est Magnifique" and Charles Trenet's immortal "La Mer," carefully arranged to showcase varying moods, styles and tempos. His partner in ingenuity is pianist Jeffrey Neiman, who also serves as arranger and musical director of a seven-piece band that includes brass, woodwinds and strings. You get your money's worth.
The musicianship is seamless, the vocal agility effortless, but Mr. Holmes's most stunning skill is shaping heartfelt approaches to songs with soulful lyrics. Two show-stopping highlights are his own compositions, "1944," about the year his parents plunged into a brave new world with the end of a war and the beginning of an interracial marriage, and a gorgeous, passionately phrased song called "The Perfect Trance." The jazz credentials are unmistakable ("Let's Face the Music and Dance" is off the down beat and heading for the stratosphere), but, more often than not, Mr. Holmes eschews bop lines and trills for deeply felt conversational phrasing, as in a tender reading of "This Nearly Was Mine," unlike any version you've heard from any South Pacific baritone.
I don't hear much these days to save the generally anemic world of cabaret from muted denseness—especially in the male-vocalist division. Mr. Holmes is certainly one of the sharp musical exceptions. He can croon. He can wail. His sense of time is thrilling. He can build a tempo with temple-throbbing passion, then waft his way through a ballad with dreamy intonation. This is one train I plan to catch again—and often.
STOP THIS TRAIN
STARRING: Clint Holmes
Café Carlyle at 5 East 76th Street