Meet the Milsteins
Big-time politicians, real-estate honchos, media moguls and finance billionaires: they all do their part to help the city. But it is especially heartwarming when philanthropy is a family affair. The Milsteins and the Tisches have long histories of charitable endeavors. These families have given for generations, and will continue to do so for generations to come. They donate to medical research and care and the arts. They feed the hungry and support the underprivileged. And both families have provided sustained contributions to two of  the city's most prestigious universities: Columbia University and New York University. Here are the Milstein and Tisch philanthropic family trees.
Tracing back to Seymour and Vivian Milstein, the Milstein family tree has a long-standing tradition of philanthropy. The late Seymour, who passed away in 2001, and his wife. Vivian, were dedicated to scientific advancement. That interest can be traced back to Vivian's father, Joshua H. Lenier, a neurologist and the first practicing psychiatrist in Bronx county. Vivian and Seymour had a special interest in supporting New York Presbyterian Hospital and Columbia Medical Center. Mr. Milstein served as chairman of the board from 1989-96, and following that served as chairman emeritus until his death five years later. The power couple also established the Milstein Awards, "a pinnacle of scientific achievement," which is annually presented by the International Cytokine and Interferon Society. The awards honor excellence in the interferon and cytokine research field at all levels. That includes a Young Investigator Award, which honors those who have made an impact early in their careers, a Travel Award, which honors those all over the world and an Award for Excellence, which honors highly esteemed Laureates.   Vivian and her children have seen that this legacy of supporting the field of medicine lives on.
Their son Philip and daughter Constance founded and act as principals at Ogden CAP Properties, LLC. Constance Milstein is extremely philanthropically inclined. She has carried on her family's tradition of aiding scientific advancement, not only through New York-Presbyterian, but also through other channels. She has been a trustee at New York-Presbyterian since 2000, serving on many significant committees. Constance and her husband, Jehan-Christophe de La Haye Saint Hilaire, are longtime benefactors of the American Heart Association and she serves on the board of directors of CURE (Citizens United in Research for Epilepsy), a nonprofit dedicated to finding a cure for the disease. Most notably, Constance began a bakery with the sole intention of supporting philanthropic causes. What started in Mt. Kisco as Connie's Bakery & General Store, in which all net profits went to six charities each year, has evolved to Connie's Baking Company, a bakery based in Washington and found online, in which 100 percent of the donations go toward supporting men and women serving in the military. Abigail Elbaum, Constance's daughter, serves on the board of Lincoln Square and heart center steering committee at New York-Presbyterian.
Philip Milstein and his wife, Cheryl, both attended Columbia University.  Philip attended Columbia College and his wife graduated from Barnard. They are both very active alumni. Their most-recent donation involved $20 million for a new medical and graduate education building. Both believe in the importance of giving to their alma mater and continuing the family's tradition of supporting science. Cheryl said, "I am so proud to be a strong link in the Barnard College chain. It is a place that shapes young, bright women into strong, confident, well-intentioned leaders in all fields and does so regardless of their socioeconomic background. It is an honor to give these incredible and impressive Barnard women the chance at succeeding by allowing them access to the best education in an environment that promotes confidence, encourages strong ideas and opinions and empowers women." The family not only gives to their alma mater and the field of medicine, but also to the arts. Tamar Podell, senior vice president of planning and development at Lincoln Center for the Performing Arts, said, "Cheryl and Phil have been extraordinary partners with Lincoln Center on any number of initiatives, including the Atrium, our 50th anniversary celebration, the Lincoln Center real-estate galas and many other successful efforts that shine a light on Lincoln Center. They are passionate, committed and generous in advancing the arts, never hesitating to roll up their sleeves when it can make a difference."
Their eldest children, Meredith and Joshua, followed in their parents' footsteps and continue support of Columbia College. They are also involved in the 92nd Street Y's Emerging Leadership Council. Joshua, class of Columbia '10, is also an entrepreneur. He is the CEO and cofounder of a start-up, Doormates, which has refocused its brand on MommyNearest products, which its website says is for "parents on the go."
Toby, class of Barnard '14, is already an esteemed philanthropist in her own right. All proceeds from her company, Wear It Don't Bear It, go to Bereaved Parents of the USA, a nonprofit that offers support to grief-stricken families attempting to rebuild their lives after the loss of a family member. Toby wants to establish the connections between violence and the popularity of the gun culture in fashion. She said, "I couldn't reconcile Columbine and Rihanna's Chanel gun earrings. I couldn't reconcile Virginia Tech and Karolina Kurkova's gun dress. I can't make that work. If you let gun violence persist and gun fashion without specific messaging to continue unchallenged, I think that's a problem." Wear It Don't Bear It offers a solution. She knows it won't happen overnight, but she feels strongly that it is her generation who must stand up and do something about the rise of violence in American culture: "In the '60s and '70s, they had the war which led to the SDS (Students for a Democratic Society) and the largest student strike in American history in response to the Kent State shootings. This is ours. This is Tucson. This is Fort Hood. This is Aurora. This is Sandy Hook. And I want to do something about it."
Laurence, a freshman at Yale University, has already gotten his feet wet in the philanthropic world.  Toby said, "He was recognized for his immense volunteer contributions and leadership skills by the Scarsdale Rotary Club for not only founding Scarsdale High School's student chapter of charity, Water, which he launched as a high school freshman, but also for its great success in raising money to build wells in third-world countries."
***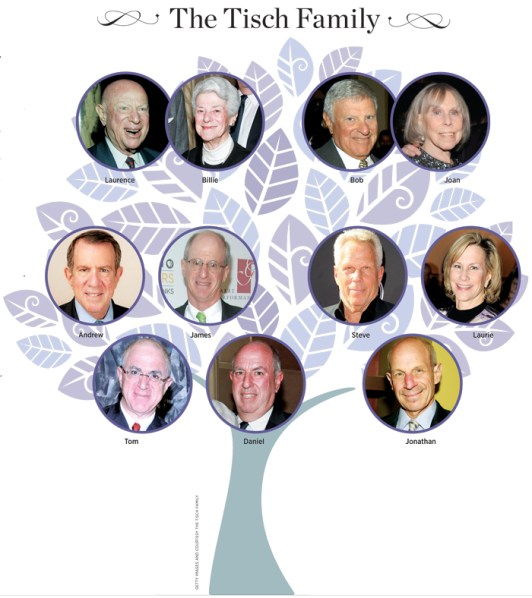 Meet the Tisches
The Milsteins are to Columbia as the Tisches are to N.Y.U. Everyone in New York, and many across the world, has heard of the Tisch family. At the very least, they know the name behind N.Y.U.'s prestigious Tisch School of the Arts. The philanthropic roots of the Tisches can be traced to brothers Laurence A. and Preston Robert "Bob" Tisch, who were just two Brooklyn boys who made it big. With the start of a single hotel in 1946 in Lakewood N.J., Bob and Larry Tisch founded Loews Corporation, which is now made up of five subsidiaries: CNA Financial Corporation, Diamond Offshore Drilling, Inc., HighMount Exploration and Production, Boardwalk Pipeline Partners and Loews Hotels & Resorts.
In 1982, the Tisch brothers made a gift to N.Y.U.'s School of Performing Arts, which then became the Tisch School of the Arts. Several years later, in 1989, the university hospital was renamed as Tisch Hospital. Since 1998, James "Jim" Tisch, Jonathan Tisch and Andrew Tisch have headed the Loews Corporation together. The three Tisch men, along with cousins Laurie, Steven, Tom and Dan, and their mothers, Joan Hyman Tisch and Wilma "Billie" Stein Tisch, have assured that their philanthropic tradition has continued, even after the passing of Laurence in 2003 and Preston in 2005.
Bob's wife, Joan, has carried on the Tisch tradition regarding medical advancement that began with the establishment of the N.Y.U Tisch Hospital. Joan's husband struggled with a rare form of brain cancer and eventually passed away from the disease. Joan ensured that his legacy would live on by donating $10 million to the Brain Tumor Center at Duke University Medical Center and the Duke Comprehensive Cancer Center. Dr. Henry Friedman, the deputy director of The Preston Robert Tisch Brain Tumor Center, said that the donations from the Tisch family have been "transformative" in nature: "They have enabled a nationally prominent brain center to become an internationally leading brain-tumor center." According to Dr. Friedman, the donation expanded all aspects of work done at the cancer center, including basic research, translational research and  clinical research. Additionally, in 2011, the Joan H. Tisch Center for Women's Health, specializing in medical services for women, was founded at N.Y.U. Langone Medical Center. Dr. Friedman said, "[The Tisches] are in tremendous placement in social strata, yet they live with immense moral conscience."
Steven, the film producer responsible for Forrest Gump and Risky Business, and a stakeholder in the N.F.L.'s New York Giants, like his siblings, gives proof to Dr. Friedman's words. Through the Steve Tisch Foundation, he has generously contributed his time and resources to organizations such as The H.E.L.P. Group, ERAS Center, The Women's Cancer Research Foundation and the Pediatric AIDS Foundation. He sits on the board of advisors at the Tisch School of the Arts and is on the board of trustees of The Geffen Theatre in Los Angeles, The Sundance Institute, The Los Angeles County Museum of Art and The Preston Robert Tisch Brain Cancer Center at Duke University.
Jonathan serves as cochairman of the board and chairman of Loews Hotels, one of the three presidents of Loews Corporation. In the past year, with his wife, Lizzie, Jonathan has given a $10 million pledge to construct a new gallery within the Costume Institute at the Metropolitan Museum of Art, and $40 million for his alma mater, Tufts, to endow the University College of Citizenship and Public Service, and helps pay for interdisciplinary courses, fellowships and programs. Jonathan said, "My wife, Lizzie, and I are in a fortunate position to support causes and institutions that represent our passions and interests. Ranging from the world of art, fashion and culture at The Costume Institute at The Metropolitan Museum of Art, to education at Tufts University in Boston, University of Michigan and New York University, as well as support for our neighbors through Citymeals- on-Wheels, we hope and trust that we are enriching lives while understanding our responsibility to the community."
Laurie, the only Tisch woman of her generation, has made philanthropy her life's mission. Founder of the Laurie M. Tisch Illumination Fund, with the mission to improve access and opportunity for all New Yorkers, Laurie said, "How do you get past the trap of having circumstances of birth or even your zip code determine your level of education, health care, food choices and exposure to arts and culture? That's why I started my foundation and built the mission around the principles of access and opportunity. For me, it's about finding strategies that help to level the playing field for New Yorkers." This year, the fund has focused on healthy food initiatives, even making a $15 million pledge to healthy food initiatives. Laurie said, "Communities plagued by high rates of poverty, poor education and unemployment are often the same neighborhoods where these diseases are rampant and access to healthy foods is limited."
Wilma "Billie" Tisch, Laurence's wife, has been dedicated to Jewish causes. She is a life trustee of the United Jewish Appeal  of New York, where her late husband is still an honorary officer. UJA has strengthened Jewish communities in New York, Israel and around the globe. Billie was also deeply involved with the American Jewish Joint Distribution Committee, a Jewish humanitarian assistance group. Additionally, Billie is a trustee of her alma mater, Skidmore College, and the September 11th Fund.
Andrew, who serves as cochairman of the board and chairman of the executive committee and one of three presidents of the Loews Corporation, along with his wife, Ann, gave $35 million to Cornell to endow professorships across academic departments this year. He said, "Being involved in the community has always part of the family DNA.  My wife, Ann, and I support a number of educational organizations whether the Young Women's Leadership Foundation or Cornell or Washington University or other great institutions because we believe that education is the great equalizer."
Thomas is a chancellor at Brown University and a managing partner of Four Partners, a private investment firm. He and his wife, Alice, continue his family's tradition at N.Y.U., as both serve as trustees at N.Y.U. Langone. Alice also heads KiDS of N.Y.U, a program that supports children's services at the hospital through community service and advocacy. She also serves as vice president and executive committee member of the Jewish Board of Family and Children's Services, an organization that provides mental health and social services in the New York City and Westchester areas.
James serves as the CEO and president, making up one third of the office of the president at Loews Corporation. This year, James, who also serves as chairman of the board at WNET, and his wife, Merryl, have pledged $15 million to be donated over the next 10 years to WNET.org. This donation is meant to inspire, enrich and celebrate the tristate community by creating the Tisch WNET Studios at the Lincoln Center. Merryl also serves as chancellor of the New York State Board of Regents, where her role is to support local innovations in the state's highest performing school districts as well as giving greater support to struggling districts and as cochair of the Metropolitan Council on Jewish Poverty, where her son Benjamin also serves as a director.
Daniel serves as a partner on the board of trustees at N.Y.U. He and wife, Bonnie, have donated to what is now called the Tisch MS Research Center. Dr. Saud A. Saduq, the director and senior research scientist at what was formerly known as Multiple Sclerosis Research Center of New York, said, "We are confident the Tisch MS Research Center of New York will continue to perform groundbreaking experiments and provide the rapid progress we strive for in accelerating our approach to finding the cause of MS." Like Daniel's mother, Billie, the couple has also been known to support Jewish causes, as they have given support to Hebrew Union College-Jewish Institute of Religion and UJA, where Bonnie sits on the board of directors.