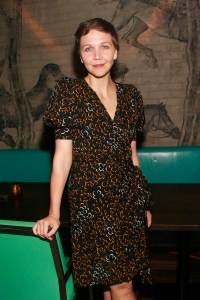 "That's Chanel, and it only works with leather leggings," interior decorator Kate de Brienne whispered skeptically to her handler, in reference to a passing demoiselle who had just entered the "Take Home a Nude" benefit at Sotheby's. Shindigger noticed that Ms. de Brienne had eschewed Chanel—the headlining sponsor of the affair—for look No. 40 from Christian Dior's autumn 2013 collection.
"It's so cold!" she sighed as she exited the elevator, venturing off to greet photographers. Co-hostesses L'Wren Scott and Daphne Guinness, cloaked in opulent gowns, were already busy working their camera-friendly magic, as hundreds of patrons of the New York Academy of Art and other art collectors made their way to the Upper East Side in hopes of scooping up contemporary works from established and emerging artists. (The evening also commemorated the career of New York watercolor artist Walton Ford.)
Perhaps unsurprisingly, more invités glugged down cocktails than ponied up for paintings. And conversation ranged from the bland ("Where did you get those shoes?") to the insidery ("How many years has Will Cotton been repped by Mary Boone?").
While the U.S. government was still in its shutdown, hardly a soul in the joint felt the fallout. But that didn't stop attendees from voicing their opinions.
"I feel it's a time that we need to pay attention to our morals and integrity, based on values," art consultant and curator Anne Huntington told Shindigger, somewhat nonsensically, before deciding what piece to bid on.
Meanwhile, Mary-Kate Olsen refused to play politics. "No, no!" she snarled at us. Ms. Olsen also appeared to take little interest in the art zoo surrounding her. As an alternative, she clutched the arm of her boyfriend, Olivier Sarkozy, while tersely discussing the fashion details of her silk pajama dress.
"It's vintage," she said.
Two days later, Shindigger arrived at our favorite Meatpacking restaurant, Buddakan, for Lunchbox Fund's fall fête. With our flute full of champagne and our plate brimming with edamame and truffle oil dumplings, Shindigger could barely make time to check out the expensive art for auction.
At one end of the main dining hall, Chuck Close chatted in front of his painting. In a side dining room, event co-chair Liv Tyler lovingly teased her mother's hair. Somewhere between the two, we discovered artist Dustin Yellin, who also had a piece up for bidding, playing nice with another co-chair, Maggie Gyllenhaal.
"Making sure that children are fed properly is worth putting a dress on," the charming actress explained to Shindigger. Ms. Gyllenhaal wore a Yves Saint Laurent number that was quintessentially Brooklyn bohemian, a frock that was also vintage, without the sass.
"These are the best fucking shoes—so comfortable—they're ACNE," she continued, pointing to her black low-heeled pumps. "I've been wearing them in the movie I'm working on like 12 hours a day."
Ms. Gyllenhaal is currently filming a Sundance mini-series titled The Honourable Woman. But even with her busy schedule, she was quite aware of the circus being staged in Washington, D.C.
"I feel like it takes so much energy to wade through fact and not fact in most of the mainstream media," she bemoaned after explaining that her primary news source is Democracy Now. "To be totally honest with you, I have so little interaction with the U.S. government that I personally have not felt the shutdown at all. That's not to say that I think it's a good idea. I'm astonished by it completely."
The next afternoon, we put on our Ivy League best to attend Helen Keller International's inaugural World Sight Day luncheon at the Harvard Club.
After explaining to us how the organization is addressing blindness health initiatives and awareness in the developing world, as well as in underserved enclaves of wealthier countries, Hellen Keller Service Award winner Mary Lindley Burton admitted that she too had her mind on the government shutdown.
"I have to say I'm very sobered by this group that would bring so much suffering to so many," she said. "I think of the people at the bottom who need every bit of support that we can give them in a fragile economy. I pray we can get past this."
To which Shindigger thought: Thank goodness there's fine red wine at these most serious afternoon luncheons!
We refilled our glass just in time to hear Elizabeth Stern, founder of Global Giving Advisors LLC, give her opinion about the shutdown.
"It's pathetic! It's just pathetic," she chided. "There is absolutely no reason why they cannot have a conversation and have some dialogue going on and raise the debt ceiling—agree to go back. There are so many opportunities to make it work; it's crazy!"
That night, Shindigger popped into two private concerts. First, Kelly Clarkson performed at the Highline Ballroom to promote the importance of buying fair trade coffee. And then we stopped off at the Roseland Ballroom, where Ralph Lauren's Denim & Supply hosted an exclusive concert with deejay sensation Avicii. Shindigger didn't retain much between the screaming revelers, confetti cannons, pulsating speakers and hefty gin cocktails, but a few lyrics did stick with us, including a line from the chorus of Avicii's dance club anthem, "Wake Me Up."
And that line seems an appropriate closing quote for our partisan shenanigans theme: "Wake me up when it's all over."