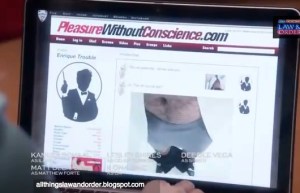 Well no, not actually the infamous pictures. That would probably take the "ripped from the headline" boast (when did that become the show's marketing campaign, by the way?) of Law & Order: SVU's latest episode straight into lawsuit territory. But it's okay: The politician who wants to be the next mayor of New York in "October Surprise" isn't actually Anthony Weiner, see, because in the episode he is caught sexting pictures of his junk to a 15-year-old.

[youtube=http://www.youtube.com/watch?v=Ivwtczv2K_0&w=420&h=315]
Just a good reminder that this whole Carlos Danger thing could have been worse. Like, she could have been a minor.
Knowing Warren Leight & Co., they might try to spice the story up with some other recent headline-making bad boys in office…perhaps the politician tries to run away with his girlfriend to Argentina (or the Appalachian trail?) a la Mark Sanford? Or maybe he's a congressman, and his scandal accidentally causes the government to shut down?
The problem being that, like episodic TV, sensationalist news stories have a way of repeating themselves a couple seasons later under a new headline.