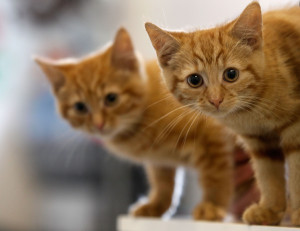 A Queens tween was arrested last week for allegedly killing a kitten by whipping it in front of a moving car. She allegedly bragged to her friends, "I would do it again if I could," according to a witness.
"I think they were playing with the cat, tossing it back and forth. It was a group of kids, and she threw it in the street," Hassan Zghari, manager of a Key Foods nearby, told the Daily News.

The three-month old tabby was crushed to death in the intersection of 101st Ave. and 102nd St. in Ozone Park on September 11. The owners, Nanette Licari and Robert Salerno, and the unidentified girl had never met.
The 12-year-old was arrested by the American Society for the Prevention of Cruelty to Animals after a nearly month-long investigation. She was charged with aggravated cruelty to animals, a felony that could mean two years in prison for an adult.
"The callousness demonstrated in this case is certainly disturbing. We can only hope that this young lady takes responsibility for her actions and understands that cruelty to animals will not be tolerated in our society," ASPCA Vice-President Stacy Wolf told Gothamist.
A relative of the alleged cat killer said the girl is an animal lover who would never do that. Apparently, she even has a dog and two parrots at home. Let's hope they're breathing a little easier these days.