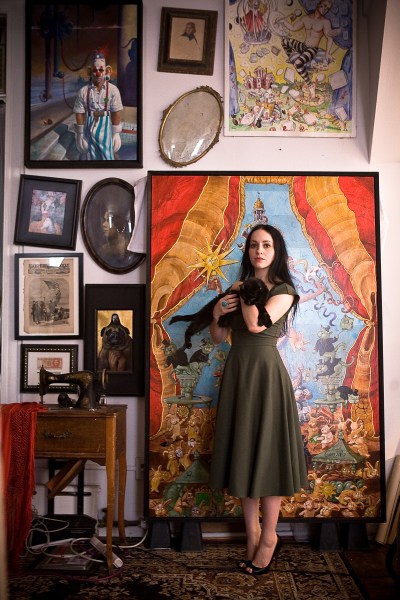 The walls of Molly Crabapple's Financial District loft are lined with paintings. Works in progress rest on easels and drafting tables around the apartment, where she has resided for the past five years with her boyfriend, the illustrator Fred Harper, and her senescent cat, Puddy. During the protests in Zuccotti Park in 2011, Ms. Crabapple, 30, turned her living quarters into a press room, and Matt Taibbi, whose new book she is illustrating, has called her "Occupy's greatest artist." The Museum of Modern Art seems to concur—they just acquired one of her Occupy prints.
But you won't see her dressing sans culottes. Ms. Crabapple's closet brims with high-end designers, from Alexander McQueen to Vivienne Westwood.
When we stopped by on a recent morning, Ms. Crabapple had just returned from the Guantanamo Bay Naval Base, where she sketched what she saw. She will reflect on that experience—among other things—in a forthcoming memoir, Drawing Blood, which will be published by HarperCollins in 2015.
You did a lot of work with Occupy Wall Street—did being in this neighborhood make you feel closer to it?
It didn't affect my feelings. It did affect my access. Because I lived across the street from Zucotti, I could turn my apartment into a press room, go down to the park every day and generally have a close, close view of history. I'm a lucky girl.
Your closet is pretty amazing, and, frankly, not what we expected from someone who worked so closely with OWS. Do you think your wardrobe influences the way people hear your message?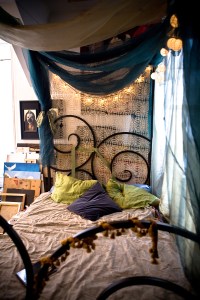 Well, all clothing is drag. It might be "professional" drag or "sexy" drag. In terms of things I believe in, there's a strong linkage between dandyism and rebellion, from the silk workers who defied sumptuary laws, to Malcolm X's suits, to Frida Kahlo's elaborate Tejuana costumes. Look at McQueen himself embroidering "I Am A Cunt" in Prince Charles's coat. I'm an artist and I love the visual. Fashion is high art sometimes, and hack work other times, but it's something worthy of study and love.
Do you have one piece of clothing that's particularly memorable?
The first time I made any money, I was 27. I went to Bergdorf's looking like a proper guttersnipe, and bought a pair of Louboutins. I'd wear them and an old ink-stained kimono and make my drawings and feel indomitable.
So, the closet is yours. Your significant other is also an artist. How do you two divide up the wall space?
Fred's made 17 more years of art than me, so it's mostly his, except for the work around my drafting table, which is where I spend the most time in the apartment.
Do you feel like you have enough room to work?
Yes, but I want to do a 20-foot painting, so maybe when I start that I'll change my mind. It will be of the Internet—I'm many sketches into deciding exactly how to depict it. I may have to put some stuff in storage, but it'll be worth it.
If you could change one thing about your apartment, what would it be?
We'd own it. After living in so many roach-infested, crumbling horrors, I feel so lucky to live in a nice place that I don't know if I'd change anything. Changing something seems rather spoiled.
Does living in a roach-infested horror limit your productivity? Or does it spur you on?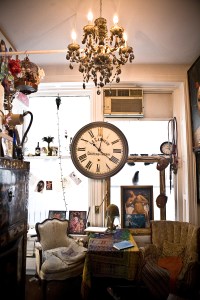 Honestly, I feel so lucky and spoiled to be able to work big. The places where I've worked before, I couldn't have done stuff like this. I lived in these tiny sixth-floor walk-ups, where I physically couldn't have carried the wood up the stairs. Where you live constrains the type of work you do.
What are the three most cherished items in your apartment? Beyond the Louboutins.
My bed. I hadn't had a proper bed until about four months ago, so that means a great deal to me.
My cat. She's so old that all she does is lie there. I think she's going into the teddy bear stage of her career. I got her when I was 11.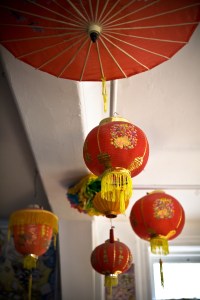 Probably the third thing would be these sketchbooks. It's this special paper from Arches that I'm fetishistic about. It's so good. It feels just like velvet.
What makes you leave the house?
Oh god, I don't even know. I've become increasingly agoraphobic. I just sort of lure people here. I throw parties and I make people come to me or I bribe them with whiskey to make them sit on my floor and drink with me. I travel so much that when I'm not traveling, I'm just kind of curled up in a ball here, not wanting to leave or see anyone.
Are you friendly with your neighbors?
I am. There's a really cool couple downstairs. The woman is an amazing costume designer. She designed all the costumes for Madonna's Super Bowl show. And her husband is a lighting designer. Every so often, at night, they project art onto the office building across the street. It's like the bat signal.