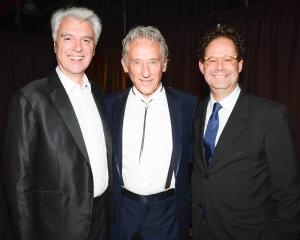 Leonard Nimoy! Ed Ruscha! Michelle Williams! Dustin Yellin! Sofia Coppola (in Louis Vuitton!)! Larry Gagosian! Rashid Johnson! Julie Mehretu! Marian Goodman! Mark di Suvero! Salman Rushdie! Padma Lakshmi! Adam Weinberg! Jeff Koons! Harvey Weinstein! Thelma Golden! Joan Didion (in Uggs!)! Lawrence Weiner! Vito Schnabel! Fred Wilson! Naked people sitting on Louis Vuitton luggage in the center of the room being sketched by other unfortunate volunteers sitting at easels (fully clothed!) that I hope were making more than minimum wage! The woman who said she was "in charge" of the naked people and referred to herself as a "Madame!"
After an hour, I left and went to Keens and ate prime rib hash. I heard a man tell a group of friends that he wanted to retire but his "wife wants the bigger house." Elsewhere at Keens, I listened to a short, chubby, balding man in an ugly red tie talking to a tall, fat, bald man, also in an ugly red tie. The bald man said to the short man that he wanted to be an "account sales guy." They seemed like friends at first, and they probably used to be, until it became apparent that the bald guy was asking the short guy for a job.
"Are you trying to prove yourself or do you want my advice?" the short guy said, his high forehead wrinkling in slightly drunken frustration. "Cuz I'll give you great advice." A beat: "Hold your fucking balls intact, my man. Why do I take this chance?"
"On me?" the bald man said.
"On you."
"Because I'll give you all I have!" the bald man said with all the hope of a criminal in front of a firing squad.
"How much do you make?"
"160."
"Look at that, dude!" the short man said, pointing to the baseball game playing on a TV in the corner. "5-0."
The bald man mustered up whatever enthusiasm he could and said, "That's sick."
"What makes you different?" the short man continued, "What gives you the shazam, the pow? I'm your biggest fan, and I need you to step up."
"I'll give you all I have. That's all I can say. I'll give you all I have."
I went back to the Whitney to see David Byrne perform. He was on a small stage in front of the dining tables where tuxedoed men and evening gown-shrouded women sat in gold chairs. He wore a slim-fitting gray suit and had a small microphone attached to the side of his head, which he sang into coarsely while dancing robotically to a loud, overly-pristine backing track that played through speakers above him. A lone middle-aged woman danced and jumped up and down in the sea of seated dinner guests, clapping her hands boisterously. Mr. Byrne was singing "Road to Nowhere."