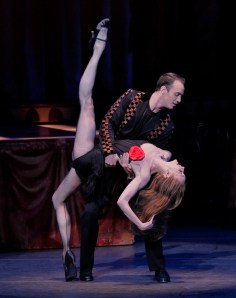 When the City Ballet program labeled "Balanchine Short Stories"—Prodigal Son, La Sonnambula and Slaughter on Tenth Avenue—was announced, it sounded as if we were being asked to consume three main courses in a single meal. And it sort of was like that. But in a way the event turned out to be rewarding, because it contrasted so tellingly with an earlier program, "Balanchine Black & White," that showcased the abstract Balanchine—the Balanchine which so many people consider his major contribution. They forget not only these three works but other narrative masterpieces like Apollo, Orpheus, A Midsummer Night's Dream and The Nutcracker.
The black and white program had its ups and downs, beginning with The Four Temperaments, one of Balanchine's greatest works—one of anyone's greatest works—now more than 65 years old and still blazing with originality and richness. The high point of this performance was Ashley Bouder's "Choleric"—she took charge and motored the entire ending. Neither Sean Suozzi as "Melancholic" nor Adrian Danchig-Waring as "Phlegmatic" has yet solved his subtle and demanding role, though each has made a decent start. That Savannah Lowery is inadequate in the central role, "Sanguinic," isn't her fault: She's miscast. Lowery is a large woman with a plush quality; "Sanguinic" was originally the dynamic Maria Tallchief, more recently the territory of Merrill Ashley and Jennie Somogyi. It demands thrust, not plush, and with a nonthruster it loses its energy, and Four T's droops.
As for the three story ballets, the performances all too strikingly revealed the weaknesses in City Ballet's coaching these days. Prodigal Son, the greatest of these works, shot itself in the foot at the very beginning—and then again at the end—by assigning young Jonathan Stafford the role of the patriarchal Father. Stafford was shrouded in robes and beard and hoary locks, but every step, every gesture betrayed a man no older, maybe even younger, than his son. This was just ridiculous and added insult to the injury of the sentimentalizing changes to the staging of the final scene—the boy climbing up into his father's arms. Old Testament rigor is no longer acceptable. And then there's the disaster of the lighting. Everyone who has known the ballet over the years must remember the glorious shock when the Siren becomes the prow of her boat and her gorgeous burgundy cloak billows out behind her as the sail. For some time now, this breathtaking moment has taken place in such obscurity that you not only don't see the color of the cloak, you can barely make out that there is a cloak. Something similar happens earlier in the same area of the stage: When the Prodigal first encounters the predatory goons, they viciously thrust their hands out from their massed bodies to provoke him, but now what they do can hardly be seen. Whose turf would be invaded if this self-destructive error were to be corrected?
Both the Sirens we were given were convincing. Teresa Reichlen has the cold, ruthless demeanor of the company's finest early Sirens, Yvonne Mounsey and Diana Adams. (Edward Villella, the strongest of all Prodigals, talks of how Adams used to petrify him with her icy look.) Maria Kowroski is sexier, bolder, but equally inhuman—in her embrace, the poor boy looks like a trapped puppy. As for the two Prodigals, at least Joaquin De Luz has the right look—dark and wiry—and he has the spring for the opening passages. He doesn't, however, yet fill the anguished later moments of the Prodigal's abasement. But he's far more successful than rosy, ebullient Daniel Ulbricht, who seems to have no inner life whatsoever. His crawl of shame and despair after his despoilment at the hands of the Siren and the goons should expose his tormented awareness of his moral degradation; Ulbricht's convulsions are all athletic, not internal, and he can't make up for this by streaking red makeup over his legs and torso to simulate the hardships of his passage. Isn't anybody in charge watching? If you needed additional testimony to Ulbricht's lack of connection to this profound role, you could find it in his first cur tain call, where he was not only grinning but blowing a kiss to the audience. He has always been a terrific virtuoso dancer, but he's never been an artist.
La Sonnambula was also in a sad state. Janie Taylor is an effective Sleepwalker—she has some mystery to her presence, and real intensity; Sterling Hyltin, in her debut, lacked everything except a proficient backward bourrée. She was neat, she was agile, but there wasn't a scrap of mystery or danger; she might as well have been awake. Robert Fairchild, her Poet, is appealing, but seems too robust for the role and doesn't understand who he is—that some part of him is complicit with his tragic fate. Taylor's Poet was Sébastien Marcovici, but one can only suspend disbelief so far. He's an interesting dancer, but someone—Peter Martins? His mother?—should tell him lovingly that he can no longer appear in pale tights. As for the Coquette and the Baron, it should be explained to them that they're not a pair of genial hosts at a pleasant masked ball but are in some kind of wicked collusion at a decadent party. Detail after detail is wrong in the current Sonnambula. The best things in it were Lauren Lovette in the divertissement pas de deux, Ulbricht as the Harlequin and the wonderful (and well-rehearsed) action of the corps in the ballroom scene.
Despite all the inadequacies, Balanchine's storytelling genius comes through: We still grasp what he's trying to tell us about the poetry and mystery of the Romantic period. If only the dancers could grasp it. If only Martins would forget his pride and bring in the experts to clean things up. The greatest Prodigal and Sleepwalker in the company's history, Villella and Allegra Kent, are right here in New York. That they're not being invited to coach "their" roles is a crime against art—and against Balanchine.
(A peculiar detail: Before the first performance of the program, Andrew Sill, City Ballet's appealing music director, led the orchestra in a demonstration of how Vittorio Rieti, the composer, darkened the texture of the music of Bellini that he was adapting. Sill, however, left out the essential thing: Bellini's Sonnambula is a joyful comedy, whereas Balanchine was creating a violent, ill-fated drama. Rieti wasn't responsible for the change, he was simply – and brilliantly – giving Balanchine what he needed.)