Photo via Stephen Fuchsberg
On Mercer and Canal
dgrantobserver
The posters had been ripped down by this afternoon.
dgrantobserver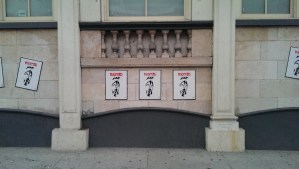 The mayor has condemned him. The police are after him. Possible copycats are posing as him. And vandals who dare deface his work are being humiliated by vigilante mobs.
Which all points to one conclusion: Banksy is Batman.
As we reported earlier this week, street artist Banksy began his one-month "residency,"  Better Out Than In in New York with a bang, with two tributes to the World Trade Center and 9/11 raising the ire of Mayor Bloomberg, who said "graffiti does ruin people's property and it's a sign of decay and loss of control."
Though he said he'd leave it up to  Department of Cultural Affairs to deal with Banksy, it wasn't two days before the NYPD's Vandal Squad were sent out to capture the British artist, according to The New York Post. And now that Banksy's base of operations has been discovered out in Red Hook, that could lead to a subpoena and investigations of the facility, Gothamist's John Del Signore speculated.
But wait! There's more! A tipster sent us over photos today with this note:
I was on my way to work, so I took a few pictures of what appears like a Disney stencil of Jafar (from Aladdin?) in a set of WANTED plaques. Has something in Arabic on it. Looks a bit controversial but I don't know what it means.

Corner of Mercer Street, right off Canal….some couple were peeling/taking one off when I was leaving. Overall looked pretty cool, like a weird Disney/Osama reference.
The building has since been identified as a Citibank, and the posters, which were affixed with double-sided tape, are now gone. Banksy hasn't taken credit for the installation (if that's what it is) yet, but he didn't do so far the 9/11 stencils either.
Meanwhile, graffiti artist 2Cope claimed credit for a collaboration with Banksy that taunts the NYPD with a picture of a pig. (Even though it's still unclear if a) Banksy is actually wanted by the police, and b)If Banksy was actually involved with this piece.) In other news, those things are damned hard to get rid of.