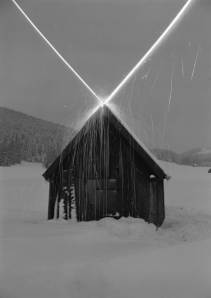 The eyes of the international art world tend to be on Switzerland only once per year, in June, when the grand Basel Art Fair opens and the Zurich galleries host larger-than-usual dinners and openings. But this January, New York-based curator Neville Wakefield and his girlfriend, artist Olympia Scarry, are aiming to draw attention to a Swiss locale not exactly known for its art cred: Gstaad, the luxurious vacation village in the surrounding Alps. They plan to open an ambitious exhibition called "Elevation 1049," sponsored by Swiss patron Maja Hoffmann's LUMA& Foundation. The first edition of what they conceived as a roving biennial, it will feature Swiss artists making site-specific works throughout the idyllic town.
"In a way, it will be a homecoming for a lot of the artists, because so many don't live in Switzerland," Mr. Wakefield told us by phone from Lima, Peru, where he has organized a show of work from the collection of fashion photographer Mario Testino. Those artists include Urs Fischer, who works in New York and Los Angeles, Olivier Mosset, who splits his time between Tuscon, Ariz., and New York, Thomas Hirschhorn, who calls Paris home, and Olaf Breuning and Ugo Rondinone, who are now New Yorkers.
Why Gstaad? "It has this thing of being extremely international, cosmopolitan and global and then very local at the same time," Mr. Wakefield said. Ms. Scarry's grandfather, the children's book illustrator Richard Scarry, lived in the area, and she visited throughout her youth. The show, she said, is in part about "bringing back the idea of the local."
"I felt very inspired by the landscape there," she added. "We thought it would be interesting to invite artists to be inspired by the nature and have an exhibit that's free to the public and open and working with this idea of a white landscape."
"Well," Mr. Wakefield said half-joking, "we don't know with global warming."
They couldn't discuss specific projects, which are still being finalized, but said the artists are focusing on Gstaad's rich history. Said Mr. Wakefield, "It ranges from colorful landscapes, the Bollywood film history here"—many films used the Alps as a backdrop—"to colorful characters, like Michael Jackson or Gunter Sachs," who respectively vacationed and resided in the village.
As for the title, "Elevation 1049," that's the village's height above sea level (in meters, naturally). "It's kind of very Swiss," Mr. Wakefield said. "We're looking for Swiss precision." Future editions of the show in other locations will be titled according to those locations' elevations.
Can't make it to Gstaad between Jan. 27 and March 8? No problem. The organizers are planning to set up a network of webcams. "In the same way that you go to check out ski conditions," Mr. Wakefield said, "you can go look at sculptural conditions."