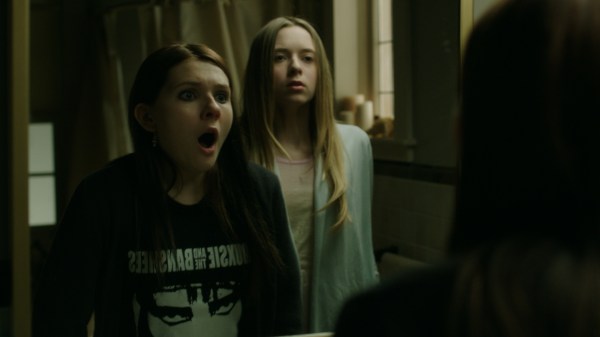 Just in time for Halloween, two new horror staples have arrived with the candy corn. Haunter is the latest in a long line of haunted house epics, and Big Ass Spider is proof that, along with witches, vampires and the undead tripping over your backyard clothesline, you can most definitely have too many monster flicks. Neither film is worth writing home about to warn the babysitter.
Abigail Breslin, 15, can't be Little Miss Sunshine forever. In Haunter, she's filling out a dull, confusing movie for which nobody bothered to provide a script. In a house shrouded in fog, the car is always broken, there is no way out, and every day 15-year-old Lisa (played by Ms. Breslin) finds herself stuck in a replay of the same domestic routine—pancakes for breakfast, mac and cheese for lunch and meatloaf for supper. At night, it's always another rerun of Murder, She Wrote. Sometimes Lisa plays the clarinet. Sometimes she talks to a Ouija board that never tells her where she is or how to escape. Beneath the floor, there's a cave that leads to the corpses of children. Voices rise from the anguished souls trapped behind bars. Yes, you've seen it all before. In the tradition of B movies about new tenants living in homes in which brutal crimes have been committed (Daniel Craig in Dream House, Elizabeth Olsen in Silent House), with every paranormal gimmick thrown in from Poltergeist to The Amityville Horror, this awful rehash, badly directed by Vincenzo Natali (Splice), reeks of stale, recycled ideas. There is one important difference: Lisa and her family may be dead themselves. And there is one cadaverous fiend with the key to survival, played by Stephen McHattie, who also holds the key to staying awake.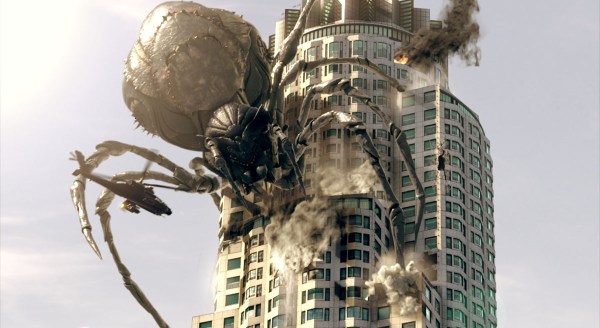 Big Ass Spider evokes memories of such 1950s drive-in double features as Mothra, Godzilla and Attack of the Crab Monsters. We now get a giant tarantula from outer space that emerges from a body bag in the morgue of a military hospital in which those mad government scientists have been up to their old mischief again, cross-breeding DNA from two different planets to produce superior growth hormones. "The promise is infinite!" cries one of the eggheads with a movie microscope. "Giant tomatoes to feed the whole world!" Accidentally, one of the genes contains a spider from Mars, and now the humongous arachnid that escapes from the lab is 50 feet tall and hell-bent on destroying the city of Los Angeles—an understandable and appropriate goal for any tarantula with delusions of grandeur, if you ask me.
This crawling terrorist is laying eggs on top of the Epic Bank Building and ready to multiply. So it's up to a team of scientific researchers, soldiers and one brave exterminator with a can of bug spray to kill the thing before it eats Beverly Hills for brunch. Machine guns, helicopters and explosives are powerless to fight it. Neither of the leading characters, the pest-control specialist and his Mexican sidekick who talks like Mel Blanc in the old Warner Bros. cartoons—nor the helicopters served as hors d'ouevres to the hungry insects—produce enough action or humor to keep you on the edge of your seat. But I did enjoy one exchange in which the clumsy, overweight hero pulls out his bug spray: "Is that like Raid?" someone asks. "Raid is for housewives. This is a very potent brew—my own concoction of sticky acid," he says. "A few drops on a termite hive, and it's history, and it's eco-friendly!"
For Halloween, you're advised to stick to TV reruns of Them! with James Whitmore and the radiation-fueled killer ants. Big Ass Spider, lazily directed by Mike Mendez and unwisely written without a trace of necessary camp by Gregory Gieras, aims for satire and settles for stale shtick. It ends with the song "La Cucaracha," leaving the door open for more insects to come. Cockroaches, anyone?
HAUNTER
Written by Matthew Brian King
Directed by Vincenzo Natali
Starring Abigail Breslin, Stephen McHattie and David Hewlett
Running time 97 min.
Rating: 1/4
BIG ASS SPIDER
Written by Gregory Gieras
Directed by Mike Mendez
Starring Lin Shaye, Ray Wise and Greg Grunberg
Running time 80 min.
Rating: 1/4