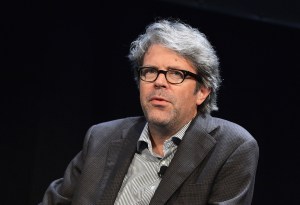 An excerpt of Jonathan Franzen's latest book, The Kraus Project, ran last month in The Guardian under the headline "What's Wrong With the Modern World." It prompted a week's worth of online dissent, much of it more persuasive than the original essay. And if you are secure in your Franzen animosity, then The Guardian debate has already met your needs. If, on the other hand, trying to explain what's wrong with the modern world by translating a fin-de-siècle Austrian satirist strikes you as a project almost endearing in its total perversity, then you will have reason to be more complexly disappointed.
Karl Kraus edited the magazine Die Fackel (The Torch) and wrote unrelenting, deliberately impenetrable criticism. Mr. Franzen acknowledges that Kraus's work is tied "to long-forgotten controversies, to rivals now obscure, to newspapers and literary works that only scholars read anymore." He argues, though, that it also speaks to "our own media-saturated, technology-crazed, apocalypse-haunted historical moment." The Kraus Project includes translations of four short works, plus extensive footnotes from Mr. Franzen describing how he came to read Kraus while studying in Germany after college and delineating the parallels between Kraus's Vienna and the modern world. He makes the case, for example, that the "feuilleton" lifestyle journalism Kraus decried as glib and derivative is analogous to today's online discourse. (Muddying this comparison is his equally plausible reading of Die Fackel itself as "like a blog.")
In any case, Mr. Franzen drowns out his argument for the contemporary relevance of Kraus with clanging proclamations of his own. Like: "Who has time to read literature when there are so many blogs to keep up with, so many food fights to follow on Twitter?" A typical two-page spread offers a paragraph of German text, a paragraph of facing English translation and two thirds of a page of bold, black footnotes from Mr. Franzen demanding your attention. This format seems designed to keep the reader from engaging with Kraus, and, when at one point Mr. Franzen expresses reluctance to "add to the already astronomical footnote tally," it's startling. Aren't the footnotes the reason we're reading? If not, someone has miscalculated—it's hard to imagine that anyone could come away from The Kraus Project with more thoughts about Karl Kraus than about Jonathan Franzen. The Kraus we do read mostly falls flat. ("The streets of Vienna are paved with culture," reads one aphorism. "The streets of other cities with asphalt.") Mr. Franzen apologizes occasionally for his rendering of the German. ("Sadly, more untranslatable wordplay.")
You want to believe there's some self-awareness involved when Mr. Franzen notes Kraus's penchant for "shrill, ex cathedra denunciations" and his reputation as "the Great Hater." And when reading the work of a great hater, you want to feel the prickle of unexpected recognition, the thrill of discomfiting truth voiced. You want to be stung enough to want more. But here Mr. Franzen does not sting. He blunders. Again and again, he dismays you with his clumsy ill will. There are good complaints to be made about the modern world, and Mr. Franzen is not making them.
Someone who had spent more time with the object of his criticism might have better perceived the things that make it vexing, the vulnerable places that could be prodded for fresh insight. Mr. Franzen, on the other hand, tells us that the AOL home page has vacuous and trashy headlines. He says that Apple ads are pretty smug. This is the nonfiction equivalent of writing a novel about a cardboard cutout. Mr. Franzen seems unable to render the Internet or its "enthusiasts" ("Enthusiasts"! A Twitter-bio tic that ought to be low-hanging fruit! How did we all become "enthusiasts"?) with any complexity or vitality.
The week after Mr. Franzen enraged the Internet with his Guardian account of "What's Wrong With the Modern World," the comedian Louis CK offered a lament of his own, in the course of explaining to Conan O'Brien why he won't let his daughters have smartphones ("terrible things"):
You need to build an ability to just be yourself and not be doing something. That's what the phones are taking away—is the ability to just sit there. That's being a person. Because underneath everything in your life, there is that thing, that empty, forever empty. … That knowledge that it's all for nothing and that you're alone. It's down there. And sometimes when things clear away, you're not watching anything, you're in your car, and you start going, "Oh, no, here it comes. That I'm alone."
"That's why we text and drive," he concluded. "I go, 'Oh, I'm getting sad, gotta get the phone and write 'hi' to like 50 people.'"
This clip, of course, was widely and approvingly shared on the Internet. Louis CK as quasi-Luddite curmudgeon is compelling; Mr. Franzen as the same is not. I don't suggest we judge quality by YouTube views (5 million-plus, in the case of Louie CK), a yardstick of which Mr. Franzen probably would not approve. But it seems worthwhile to consider what Louis CK's account had that Mr. Franzen's lacks: an interest in what drives people to technology, a concern for the holes it fills and hunger it sates.
In Mr. Franzen's telling, technology's fans are fools or at the very least (Salman Rushdie and n+1 seem to receive this charity) misguided. They "succumb" to Twitter; they swoon blindly before "Steve Jobs and Mark Zuckerberg and Jeff Bezos"; they're either dumb sheeple or self-serving attention-seekers. "People can't sit still for five minutes without pawing their smartphones," writes Mr. Franzen. They're barely human. This absence of interest in interiority—empathy for our shared forever emptiness—seems indefensible for a novelist.
And in a way, Mr. Franzen appears to know this. He describes how, after loving Kraus and his rage as a 22-year-old man, he set the essayist aside as he grew immersed in his own writing:
The mental work that fiction fundamentally requires, which is to imagine what it's like to be somebody you are not, further undermines anger in the long run. The more I wrote novels, the less I trusted my own righteousness. … I felt that I'd outgrown Kraus, felt that he was an angry young man's kind of writer, ultimately not a novelist's kind of writer.
But then, he changed his mind. The apocalypse, "after seeming to recede for a while, is still in the picture," he writes now, and it demands the full force of his anger.
He isn't wrong. Even his Internet-loving adversaries share his horror of environmental destruction and Amazon monopoly, among other ills. But Mr. Franzen seems pathologically unable to express rage in a sympathetic way, and it's that failure—not his reluctance to tweet or his love of printed books—that might condemn him to be another forgotten Great Hater.
editorial@observer.com