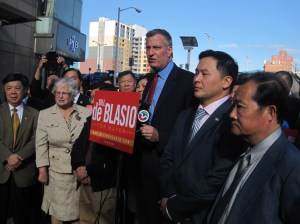 Mayoral front-runner Bill de Blasio today accused his Republican opponent, Joe Lhota, of putting forward a "fiscally irresponsible" plan that would cost the city billions in tax breaks.
Speaking to reporters at a Queens endorsement event, Mr. de Blasio–who is far ahead in the polls–said that Mr. Lhota's economic plan would bring big benefits to the city's wealthiest.
"It is chock loaded with tax breaks for corporations and for wealthy individuals. In fact, it's several billion–two to three billion dollars a year–of tax breaks for corporations and the wealthy," he charged. "And I think that is fiscally irresponsible. And I think that points out that Mr. Lhota seems very interested in serving the most powerful special interests."
Reached for a response, Mr. Lhota's campaign spokeswoman, Jessica Proud, said Mr. de Blasio had his numbers wrong. She further contrasted Mr. de Blasio's résumé with Mr. Lhota's, which includes a stint as former Mayor Rudy Giuliani's budget director.
"That assessment is incorrect," Ms. Proud wrote in an email. "The tax reductions will be phased in over time and will lead to increased economic activity and job creation, giving our small businesses an opportunity to grow and hire more New Yorkers. Mr. de Blasio has never managed a large budget and he lacks the understanding of how to grow the economy and create jobs."
Mr. de Blasio's remarks today came in response to a question about a Daily News report indicating that Mr. Lhota lobbied City Hall for additional tax breaks for Madison Square Garden while serving as an executive at the company, which already saves millions of dollars a year due to favorable exemptions. Mr. Lhota has denied that he lobbied for such a deal but Mr. de Blasio argued the report nevertheless showed Mr. Lhota has the wrong priorities.
"All I know from the media report is that he was duly registered as a lobbyist and that the mission of Madison Square Garden was to seek tax breaks. Clearly right now they have a tax status I disagree with. That is a very, very profitable firm and they get a massive tax break on Madison Square Garden and I think it's uncalled for," Mr. de Blasio continued.
"So I think it's clear that Mr. Lhota believes in giving more and more tax breaks to corporations," he summarized.
The Democrat's remarks came as Mr. de Blasio, who has dramatically scaled back his public schedule since winning the Democratic nomination, made a rare stop in Flushing to receive the endorsement of Congresswoman Grace Meng, who introduced Mr. de Blasio as the city's next mayor.
As they posed for photos by the press, Mr. de Blasio, along with Ms. Meng, City Councilman Peter Koo, State Senator Toby Ann Stavisky and Assemblyman Ron Kim, jokingly brainstormed about their new team's name.
"We are known as the foursome. Now we're gonna be a fivesome," said Ms. Stavisky, welcoming Mr. de Blasio to "Team Flushing,"
"I want to dub us the five musketeers," offered Mr. de Blasio. "There were four. Now I'm joining. This could be very traumatic, you know, that the fifth character joins the series. So I want to be the fifth musketeer."
"The fearsome fivesome!" suggested Ms. Stavisky,
"We're going to have a whole workshop where we come up with nicknames for ourselves," Mr. de Blasio joked as the cameras snapped.
Update (5:45 p.m.): With the Lhota campaign's reaction.