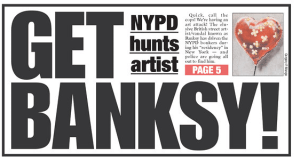 Banksy buzz may be sweeping parts of New York City–including a mention on the cover of the New York Post this morning–but the leading candidate for mayor has no idea who that is.
Bill de Blasio appeared perplexed this morning when asked by a reporter if the famed, pseudonymous British graffiti artist's latest work in Manhattan should be removed.
"Bill, this question is about whether Banksy's art should be removed–" a reporter began.
"Say again?" Mr. de Blasio replied.
"You know Banksy, the artist?" the reporter pressed.
"I don't know that," Mr. de Blasio confessed before moving on to the next question. "I don't who that is."
Mayor Michael Bloomberg was also asked about the enigmatic Banksy's existence, and said yesterday that graffiti artists, even of Banksy's repute, shouldn't be allowed to roam free in the city.
"I'll leave it up to our Department of Cultural Affairs," Mr. Bloomberg said when asked his thoughts on the world-famous artist. "But look, graffiti does ruin people's property and it's a sign of decay and loss of control."
Update (1:50 P.M.): According to a Daily News reporter, Joe Lhota, Mr. de Blasio's Republican rival, denounced graffiti art today.
"Defacing property should never be considered art," Mr. Lhota reportedly said.