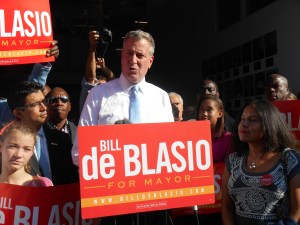 Bill de Blasio's lefty past supporting revolutionary regimes hasn't put a dent in his sky-high poll numbers, but some conservatives are still fuming about the public advocate's work abroad.
In an opinion piece published in this weekend's edition of Hamodia, a prominent New York City-based Jewish newspaper, a writer compared the Democratic mayoral hopeful's support for the leftist Sandinista movement to being a "Nazi sympathizer."
"Imagine if an unrepentant Nazi Party sympathizer would be running for mayor of New York," the writer, Dovid Margolin, theorized in his piece. "A product of the ideology that destroyed 25 million people within reach of City Hall would be unthinkable. Yet Bill de Blasio, a Marxist who has never repudiated those beliefs, will very likely be this city's next mayor."
Mr. Margolin was lashing out at Mr. de Blasio for participating in Nicaraguan revolutionary politics in his youth and for not formally denouncing the Sandinista regime opposed by the United States at the time. Mr. de Blasio also reportedly once described his political views as "democratic socialism" and frequently uses populist rhetoric while discussing growing income inequality across the five boroughs.
"So the question to ask yourself as you enter the ballot box this November is this: Is Bill de Blasio the type of man who has the judgment and character necessary to be the mayor of New York? Does a city full of refugees of communism from all over the world really need a mayor who not only sympathized with but actively promoted the totalitarian regimes under which they suffered?" Mr. Margolin asked.
"The answer is obviously no," he concluded.
The de Blasio campaign declined to comment. Hamodia's editor, Yochonon Donn, told Yeshiva World News that the opinion piece "does not necessarily reflect Hamodia's views."
Mr. de Blasio's Republican opponent, Joe Lhota, has also criticized him for the leftist leanings–but in far less incendiary terms.
Additional reporting by Colin Campbell.