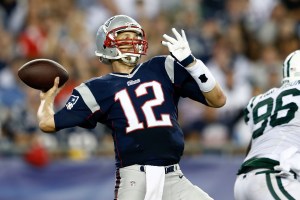 Is it too late for Democrats to choose a new mayoral nominee?
After coming out as a Red Sox supporter years ago, and recently "gingerly" acknowledging his continued allegiance to the baseball team widely despised by New York sports fans, Bill de Blasio has some salt to rub into the wound.
He's a New England Patriots fan.
"The truth is what the public demands," copped Mr. de Blasio after being asked whether he preferred the Giants or the Jets in a 1010 WINS radio interview this morning. "I've addressed the baseball part of this equation. But I was born in Manhattan–my family is all from New York–but my parents moved to Massachusetts when I was 5 years old."
After dancing around the topic for a while, Mr. de Blasio was ready to admit the truth: "I grew up with the New England Patriots and I have to be honest about that. And I have a lot of deep feelings for that team."
But the front-running mayoral hopeful wasn't done there. In the closing seconds of the interview, Mr. de Blasio also mocked the New York Jets for their lackluster record.
"I also have a lot of sympathy for Jets fans who have gone through a lot over the years. So, even though I don't support their team, I have sympathy for them," he said.
"I can only imagine!" exclaimed Mr. de Blasio, who was leading Republican Joe Lhota by a wide, 50-point margin in a poll taken before today's revelations emerged.