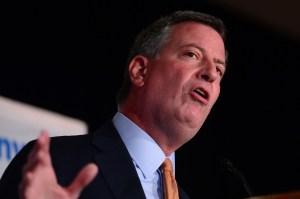 Having stumped across the five boroughs, Bill de Blasio took his front-running mayoral bid to a brand new frontier today: Reddit.
There, the Democrat fielded inquiries in one of the social news site's "Ask Me Anything" forums. Unsurprisingly, the open format resulted in some atypical questions, from his favorite pizzeria to the "perfect geometric balance" of his son Dante afro. (In turn, Mr. de Blasio's responses featured varying levels of grammar and spelling.)
"Growing up, it was the Autobiography of Malcolm X, and I still love that book," Mr de Blasio wrote when asked about his favorite book. "More recently, i've taken great inspiration from Nothing to Fear by Adam Cohen about the New Deal, and the people who made it happen."
Asked about his religious beliefs, Mr. de Blasio offered enthusiastic praise of the current pope.
"Although my mother was raised a Catholic, she did not bring me up in the Church. I considered myself a spiritual person but unaffiliated, and I was definitely vey influenced by the liberation theology movement in Latin America. And BOY am I a fan of Pope Francis!"
Some members of the community attempted to push the candidate on more substantive issues, including Gov. Andrew Cuomo's reported disinclination to back his signature tax-the-rich proposal, subsidies for commercial development, how he would have handled Occupy Wall Street and more. On these more familiar issues, however, Mr. de Blasio largely kept to his standard talking points.
Overall, most of the comments seemed appreciative. One member accused a questioner of being a de Blasio staffer, but Mr. de Blasio was in good spirits, offering a joke or two along the way, including details of his "secret laboratory on a new land creation machine!"
Asked if he would return and do another round on Reddit after the November election, Mr. de Blasio replied succinctly: "you betcha."