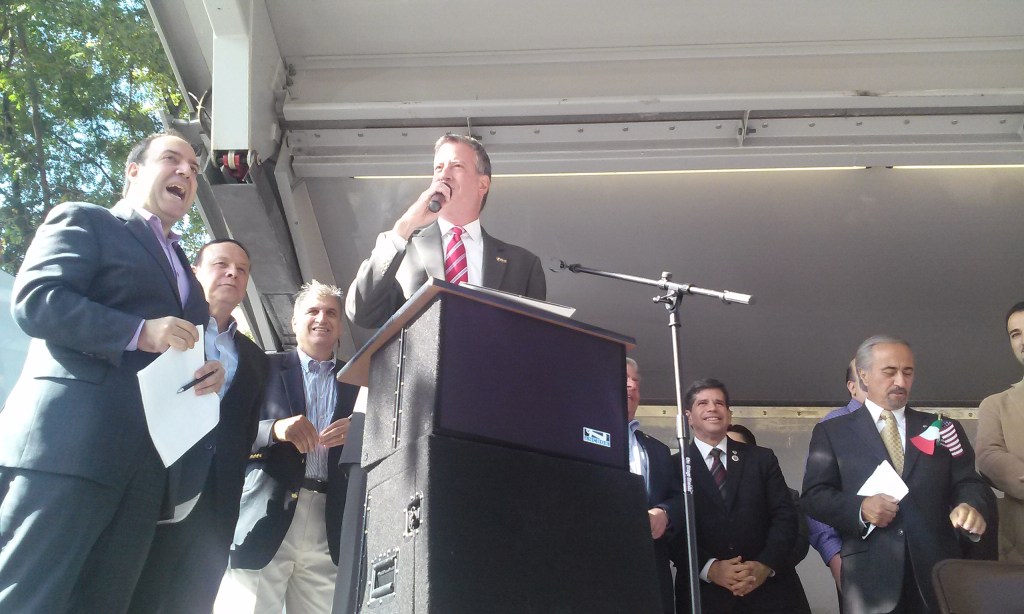 "Buongiorno!" Bill de Blasio exclaimed as he began a speech today. "Viva Italia!"
The front-running mayoral candidate's Italian heritage was on full display this afternoon when he made an appearance at the end of the annual Columbus Day Parade in Bensonhurst, a neighborhood that was once the heart of Brooklyn's Italian-American community.
Giving his address to a small crowd, Mr. de Blasio relentlessly extolled Italy and all of those who descend from the country's diaspora.
"For all of us who are Italian-American, we should feel a tremendous pride," Mr. de Blasio proclaimed. "We should feel pride in everything that Italy has contributed to the world–one of the societies that shaped the world as we know it. The civilization, the culture, everything that came from Italy and framed the world as we know it today should be a point of pride in all of us."
Mr. de Blasio, sporting an Italian flag pin in his suit, argued that people like himself should be especially proud of their immigrant ancestors "who struggled to come here under very tough circumstances." (Mr. de Blasio was born Warren Wilhelm, Jr. but identifies with his mother's side of the family.)
"I always like to say a special thank you to my wife. Because when we talked about names for our children, she understood the beauty of the Italian culture and we named our children Chiara and Dante to continue their heritage," he later added, pronouncing both names with an Italian accent.
Eventually, Mr. de Blasio connected this heritage to a larger argument for his mayoral campaign.
"Italian-Americans have a deep deep appreciation for family. We make it the center of our lives. We have a deep willingness to stand up for each other. We may not always have the most trust in government, do we Carlo?" he asked Carlo Scissura, the president of the Brooklyn Chamber of Commerce.
"No we don't," replied Mr. Scissura, who was emceeing the event.
"Italians feel a little ambivalent about government. But that means we demand the government actually serve people in their neighborhoods. And that's the right way to think about it. That's what I've gained from my heritage," Mr. de Blasio concluded.
Afterwards, in a scrum with reporters, the candidate jokingly answered questions in Italian, which he said he'd picked up while growing up in an Italian household, taking college courses and–"the magical formula"–speaking Italian with his barbers while getting his hair cut.