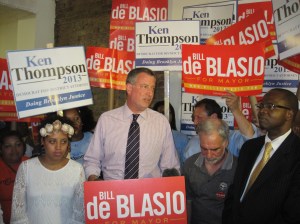 Mayoral front-runner Bill de Blasio railed against Brooklyn District Attorney Charles "Joe" Hynes today over his decision to run on the Republican and Conservative party lines after losing the Democratic primary, insisting rival Ken Thompson won "fair and square."
Speaking on Norman Seabrook's AM 1600 WWRL radio show, Mr. de Blasio urged his supporters to turn out for Mr. Thompson, whom he has often described as a close personal friend.
"I want to remind everyone that he has a Republican opponent. I think everyone within the sound of my voice should redouble their efforts to get Ken elected in Brooklyn," Mr. de Blasio proclaimed.
But Mr. Seabrook, an outspoken union leader who also serves as president of the New York City Corrections Officers' Benevolent Association, went further, criticizing Mr. Hynes for running.
"Bill, you can't say it, but I can: It's a damn shame that Joe Hynes is feeling the way that he is," he declared.
"No, I can say it, too, Norman," replied Mr. de Blasio, reiterating the criticism. "I think, you know, fair is fair. We have Democratic primaries. And I've gotta tell you: my primary opponents have been exceedingly gracious, as you've noticed, and have all agreed to support us with a whole heart. They've done, really all of them, a fantastic job of helping us."
"I think Democrats are supposed to support Democrats," he added. "As we used to say, as children: Ken won fair and square. I don't think there's anything else to it and it just makes me, as a Democrat, want to work harder for Ken."
Mr. Seabrook, an ardent supporter of Comptroller John Liu, who came in far behind Mr. de Blasio in the primary, also used the appearance as an opportunity to formally endorse the front-runner.
"You talk about education, and I get it. And you talk about taxing the rich. I get it. Correction officers don't make a half a million dollars a year. Correction officers have children that need to be in pre-K, correction officers have children that need to be in after-school programs. So would you kindly accept the endorsement of the Corrections Officers' Benevolent Association for mayor of the City New York?" he asked.
Mr. de Blasio described the endorsement as a "tremendous honor" and went on to urge voters to come out to the  polls on Nov. 5.
"I just want to emphasize with humility, this ballgame ain't over 'til it's over," he said.
Update (2:07 p.m): Mr. Hynes's spokesman responded with a statement reading: "Joe Hynes has always been and always will be a Democrat. He is running to keep a corrupt, convicted felon from influencing the DA's office." (This is a reference to convicted ex-party boss Clarence Norman, whom Mr. Hynes claims–and Mr. Thompson denies–played a key role in Mr. Thompson's campaign.)