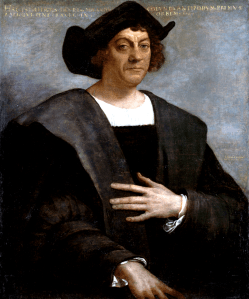 While he's beyond proud of his Italian-American heritage, Bill de Blasio nevertheless stops short of celebrating Christopher Columbus, the famed Italian explorer who also committed violent atrocities, according to historical records.
"The historical figure of Columbus is complicated to say the least," Mr. de Blasio, the front-running candidate for mayor, said today at a press conference right before he marched in Manhattan's Columbus Day parade. "One thing, he went to work for Spain, I don't know how I feel about that, as an Italian-American."
"It's very complicated," he added. "There are some troubling things in his history."
Mr. de Blasio was responding to a question asking whether he thought Mr. Columbus, famous for discovering the Americas while sailing for Spain and later attacking the native populations, was worthy of national recognition. But Mr. de Blasio argued the holiday in its current form was simply a celebration of Italian pride, not the explorer.
"That's not what this day is about, it's not about the individual. It's about the people that are represented on Columbus Day," he argued. "When I'm out here marching on Columbus Day, I'm thinking about the pride in my Italian heritage."
At a Saturday Columbus Day parade in Brooklyn, Mr. de Blasio made a similar claim–that Columbus Day and Mr. Columbus himself  had been "disassociated" from each other.
"A lot of things have been reexamined very critically–and rightfully. But, you know, today, in a sense, his name has become something a little bit disassociated from his own personal history–a sort of composite example of Italian pride and that's how I look at it," he said.
Additional reporting by Colin Campbell.