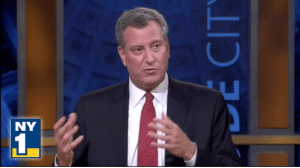 Mayoral front-runner Bil de Blasio assured this evening that his family has "no delusions of grandeur" despite being plastered all over the city's television sets and newspapers.
In an interview with NY1, the Democrat spent some time reflecting on the media hype surrounding his family. Today, for instance, his son's afro is featured in the New York Times style section, while his wedding video is posted on the paper's website.
"I don't think we expected anything quite like this, obviously," said Mr. de Blasio when asked whether he was prepared for the onslaught.
"I think what I'd say is, in public office, especially when your family is involved, … it's natural then that people want to have interviews and want to show photos. That's fine. There's been some other things I think were much less appropriate. But I do think we expected our family to be involved and expected there to be media interest," he continued. "I don't think we ever could have expected this level of interest."
Mr. de Blasio was asked whether he was actively trying to showcase what host Josh Robin described as his "post-racial family."
"Chirlane and I are very proud of our family," Mr. de Blasio replied. "It is true that we've been struck–really touched by the response from people all over this city. It's something very warm and positive that a lot of people have felt. So I don't think we have any delusions of grandeur that we represent something bigger than we do. I do think it's good and healthy for society–there's so many people in multiracial relationships, so many different kinds of families, all of which should be embraced. I think it's a good and healthy for people to see a positive family that happens to be with people of different backgrounds."
As for his wife, who has played a huge behind-the-scenes role on his campaign, Mr. de Blasio said he expected her to continue to play a significant role in his administration.
"If the people choose us, she's going to be a very active presence. She's going to be a very strong, involved First Lady," he said. "And I thinks he's going to take a special interest in the development of our children and trying to support families."