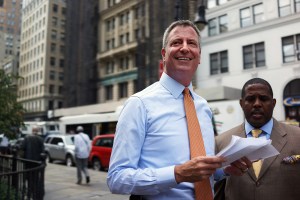 Mayoral front-runner Bill de Blasio may be 50 points ahead in the polls, but that isn't stopping him from hitting his Republican rival, Joe Lhota, whenever he sees an open shot.
Today's opportunity for the Democrat came when Mr. Lhota said in a WNYC interview that he believes Obamacare's individual mandate should be postponed for a year because of alleged widespread confusion over its implementation.
"This is another example of the fact that Joe Lhota is a true Republican who is aligning in this case with the extreme views of the Republican Party in the House of Representatives," charged Mr. de Blasio during his own appearance later in the afternoon on WCBS 880 AM. "This is unbelievable to me that a guy who says he wants to represent New York City would be taking the Tea Party position on the question of the Affordable Care Act."
Mr. de Blasio has spent the days since the shutdown began trying to tie Mr. Lhota to his party's more conservative wing in Washington, which is refusing to fund the federal government unless President Barack Obama agrees to defund or delay his signature healthcare law.
Mr. de Blasio argued today that the whole point of the law was to provide health care to millions of uninsured Americans, including an estimated 600,000 in the city.
"What Mr. Lhota is saying is, he thinks, in effect, 600,000 people should continue being uninsured and go without that protection and their families should not have that protection and that we should delay something that could fundamentally cut health costs in this country," Mr. de Blasio said. "By doing that, he is showing that he is taking a Tea Party view of the world."
"And I find it outrageous," he added. "I find it against the interests of New York City."