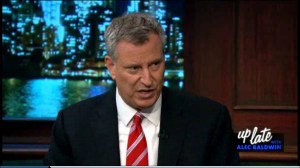 High times won't be coming to Bill de Blasio's New York.
The front-running mayoral candidate refused to back the legalization of marijuana in New York City, despite repeated prodding from actor Alec Baldwin on the debut of his new show on MSNBC last night, which featured an hour-long sit-down with the candidate.
The two chatted about Mr. de Blasio's tax plan, stop-and-frisk and his "broken home" growing up, but when it came to pot, Mr. de Blasio again said he is in favor of decriminalizing the public possession of small amounts of marijuana–but stopped short of supporting complete legalization of the drug. Police Commissioner Ray Kelly issued a memo in 2011 instructing officers not to arrest individuals who display the drug when told by police officers to empty their pockets, but critics charge it still nonetheless happens.
"But if like many people you're in favor of legalizing marijuana, a) because it's a victim-less crime but is it also because–" Mr. Baldwin asked before being cut off by Mr. de Blasio.
"I want to be clear, sorry to interrupt. I'm saying legalizing the display of a small amount to stop the contradiction of a lot of young people being saddled with a charge over something very small," the Democrat explained.
"Stopping the contradiction [is] your only concern?" Mr. Baldwin, a prominent de Blasio endorser, shot back.
"Well that's my first concern …"
As for medical marijuana?
"Medical marijuana is something I do not know enough about," responded Mr, de Blasio. "I think that's a serious, serious area of public policy that needs to be looked at, an area where I have some sympathy because there's a lot of people suffering."
One of Mr. de Blasio's rivals in the Democratic primary, Comptroller John Liu, was in favor of the full legalization of marijuana. His Republican opponent in the general election, Joe Lhota, also supports the idea.
"I think what I'm saying to you is I understand the argument for medical marijuana legalization with proper controls more than I understand the argument for full legalization … Where I am, personally, the only thing I know I fully support is that legislation in Albany decriminalizing the display of small amounts," Mr. de Blasio added.
Marijuana is criminalized at the state and federal level and the next mayor could only have a limited impact on legalization efforts.