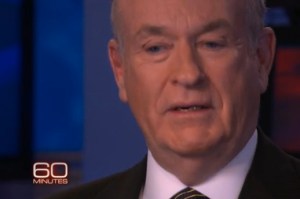 Bill O'Reilly would be the first person to admit he's somewhat of a sensationalist. In fact, he did so in his Sunday 60 Minutes interview about his new book, Killing Jesus, which is part of the Fox News host's Killing series (along with Killing Lincoln and Killing Kennedy), which has already netted him something like $10 million. But did you know he only wrote these controversial titles because the Holy Spirit demanded it of him?

[protected-iframe id="e9d361be834db7ea3a648f379273a28a-35584880-35147716″ info="http://cnettv.cnet.com/av/video/cbsnews/atlantis2/cbsnews_player_embed.swf" width="425″ height="279″]
You have to give Mr. O'Reilly points for ingenuity…apparently 1/3rd of the Trinity commanded that he dispute the Bible and write a "historical" book about Jesus, who was just "a regular guy" and could obviously not have said those things on the cross, because no one would have been able to hear him if he had said it.
Stephen Colbert took Mr. O'Reilly to task earlier this week for some of the more outlandish comments:
[protected-iframe id="3283cd6b73124a3a088a54e5b01f60c0-35584880-35147716″ info="http://media.mtvnservices.com/embed/mgid:cms:video:colbertnation.com:429485″ width="512″ height="288″ frameborder="0″]
The Colbert Report
Get More: Colbert Report Full Episodes,Video Archive
A very strong segment overall, but come on, that shark graphic in the beginning? That's the real killer here.