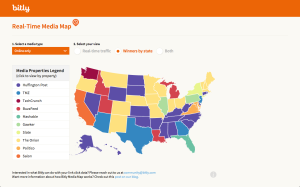 Today, Bitly introduced its new Media Map: an interactive, real-time data visualization that illustrates the popularity of forty different news organizations across the country, on a state-by-state basis.
The maps (there is one each for newspapers, magazines, TV/radio, and online-only)  present news organizations' popularity not by raw traffic, but by disproportionate traffic—meaning (basically) that if a publication is only read by 5% of the country's population, and yet is read by 75% of the population in, say, Montana, it'll still show up on Bitly's map.
"If raw clicks were used to rank states, the national map would be more likely to be dominated by the largest media properties from each media category, and the regional affinity towards certain properties, whether based on geographical proximity, or the content itself would be lost," Bitly explained in a blog post.
Although the data visualization project confirms some assumptions, such as The Boston Globe dominates in Massachusetts and New Hampshire, Fox News has a stronghold in Alabama, Georgia, and Tennessee and Californians like Vanity Fair, there are surprises.
While popular in New Mexico, Washington, Oregon, Hawaii, and Maine—among others—The New York Times lost out to The Guardian for disproportionate dominance in New York. The San Francisco Gate is, oddly, really popular in Alaska. And there are 15 states wherein huge numbers of people flock to The Onion for online-only news.
In the words of Bitly: "If you have half as much fun viewing the map as we had building it, well, then, we had twice as much fun building the map as you had viewing it!  (Sorry, data science joke.)"