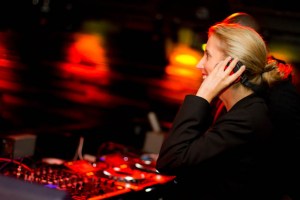 When we were invited to a book party at Marquee, we figured it must be a new indie bookstore or some ironic bar, not the nightclub.
The confusion was understandable: We have received emails for hundreds of book launches, and none of them have ever been thrown at a nightclub. Then again, most books don't use Marquee as a case study in a chapter on the nightlife industry.
And so, last Wednesday night, we made our way to 10th Avenue, where we were soon surrounded by enthusiastic Harvard Business School students, celebrating the launch of Blockbusters: Hit-making, Risk-taking, and the Big Business of Entertainment by HBS professor Anita Elberse.
"It's my very first book and my very first book party. I've never been to a book party, let alone thrown one," Ms. Elberse said from the deejay booth as the crowd cheered.
Blockbusters is an accessible, number-driven examination of what makes a hit in the entertainment industry. In addition to Marquee, chapters look at case studies of Droga5's viral Jay Z promo (the advertising agency helped plan the book party and secure the open bar), the NFL, Lady Gaga, Warner Brothers and a slew of other high-profile success stories to support her thesis that betting big is better than diversifying—at least, if a company wants to create a blockbuster. Ms. Elberse, who looks like a slightly older and slightly less awkward Greta Gerwig, is something of a blockbuster herself.
"Anita is a rock star," said Fabio, a Brazilian HBS grad.
Her class on the business of entertainment is one of the most in-demand classes on the Boston campus, and Ms. Elberse is one of the top-five most popular professors, explained another student who had come to the book party on the HBS party bus. (The bus was heading back to Massachusetts later that night so the students would be on time for their 8:30 a.m. class.)
"Where's Anita? She's my girl," one student exclaimed, before asking us if we went to HBS. We shook our head, and the biz bro walked away.
The screen behind the deejay booth, where a former student, who co-wrote the case study on Jay Z, worked the ones and twos, flashed an intermittent image of Brad Pitt (apparently, Ms. Elberse is a big fan). On the dance floor, bookstore McNally Jackson had set up a table to sell the book, beside which a young man held up three newly purchased copies, while his friend snapped an iPhone pic.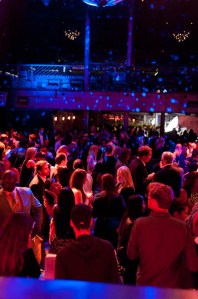 We asked one of the booksellers about the venue. She told us she had been to a nightclub for only one other book launch. What was the book, we wondered?
"Alpha Male," she replied.
There were certainly more alpha males at Marquee than we normally find at book parties.
"It's inherently more fun to talk about LeBron James than the elevator industry," Ms. Elberse told the Transom, when we spoke to the popular professor via phone later in the week. "Someone described my work as The Economist meets Entertainment Weekly."
After writing her dissertation on the film industry, Ms. Elberse said she realized that media, entertainment, sports, nightlife and fashion all share similar challenges. "Like many people, I have gone to the theater and wondered how a movie was a good idea to get made," she said. "I just took the question one step further to try to solve the problem."
As for her choice of book-party venue? "Noah [Tepperberg] asked if he could host the party, and I typically say 'yes' to such offers," Ms. Elberse explained. "I figured I could have a bunch of small parties or one big one. So I figured I'd live what I wrote in the book."
Besides, she added, "The folks at Marquee really know how to throw a party."