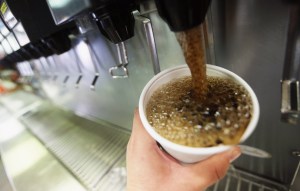 Mayor Michael Bloomberg is celebrating a decision by the state's highest court to hear the city's appeal on a ruling squashing its attempt to regulate the size of sugary drinks in restaurants and other venues.
The state's Court of Appeals issued a motion this morning giving the administration the chance to argue that it did not overstep its bounds when it tried to bypass the City Council and have the Bloomberg-appointed Board of Health bar the sale of sugary drinks larger than 16 ounces at restaurants, movie theaters and stadiums.
The new regulations were supposed to be implemented last Marc but were thwarted by a state court judge a day before they were set to go into effect.
"Obesity is the only major public health issue we face that is getting worse, and sugary drinks are a major driver of the crisis," Mr. Bloomberg said in a statement this morning, noting that obesity and diabetes "are killing at least 5,000 New Yorkers a year and striking hardest in black and Latino communities and low-income neighborhoods."
"New York City's portion cap rule would help save lives, and we are confident the Appeals court will uphold the Board of Health's rule," he said.
A state judge ruled back in March that the attempted ban was unconstitutional as well as "arbitrary and capricious" because of a series of loopholes in the rules. The Appellate Division agreed in July–but the administration vowed then to continue to fight.
Christopher Gindlesperger, a spokesman for the American Beverage Association, one of the plaintiffs in the case, remained confident the higher court would come to the same conclusion.
"The courts have agreed the Board of Health did not have the authority to pass this regulation. We are confident in these decisions, and we look forward to a final resolution of this issue," he said in his own statement.
Several of Mr. Bloomberg's third-term initiatives, including a bid to force taxi medallion owners to buy the so-called "Taxi of Tomorrow," have also been thwarted by the courts.