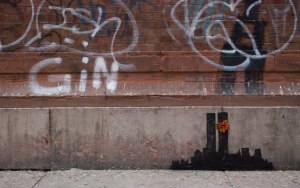 It may be the city's latest art craze, but Mayor Michael Bloomberg is having none of Bansky.
While the famed, pseudonymous British graffiti artist's creations often fetch six figures at auctions, the mayor–who has long railed against graffiti–said today his work on city buildings was against the law.
"I'll leave it up to our Department of Cultural Affairs," he began when asked about the artist, whose work has been popping up across the city, during a press conference to announce the opening of a new water tunnel deep under Central Park.
"But look," the mayor went on to say, "graffiti does ruin people's property and it's a sign of decay and loss of control."
"Art is art," he continued. "And nobody's a bigger supporter of the arts than I am. I just think there are some places for art and there are some places [not for] art. And you running up to somebody's property or public property and defacing it is not my definition of art. Or it may be art, but it should not be permitted. And I think that's exactly what the law says."
Banksy made a splash in the city this weekend when he set up a stall outside of Central Park selling creations that would otherwise go for tens of thousands of dollars for $60 each.
One of his most recent imprints on the city is an image of the Twin Towers, painted on a TriBeCa wall in black paint and adorned with a bright orange flower.