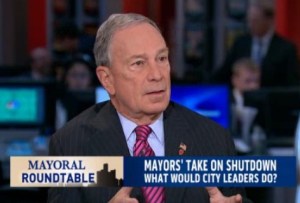 After months of warning that a candidate touting mayoral front-runner Bill de Blasio's views would be deeply damaging to the city, Mayor Michael Bloomberg has turned a new optimistic leaf.
During an appearance this morning on MSNBC's Morning Joe, Mr. Bloomberg rejected a suggestion that crime and taxes would spike under a Mayor de Blasio, who has an overwhelming lead in recent polls.
"I think it is unfair," Mr. Bloomberg said during a panel discussion organized to coincide with the CityLab summit he's hosting this week. "Number one, you don't know who the next mayor's gonna be or what he is gonna do. And number two, some things are beyond your control. And number three, if we've done a good job in the last 12 years, the next mayor has a great advantage of things working and going in the right direction," he said.
"And I don't subscribe to this that the best days of New York are gone," he added. "I think the best days of New York are ahead."
The mayor has spent recent months railing against many of Mr. de Blasio's top priorities, warning in the harshest terms that two police bills he supported would "put the lives of New Yorkers and our police officers at risk" and that the tax hikes Mr. de Blasio has called for would force the city's rich to flee. More directly, he slammed the Democratic candidate's campaign "class warfare" and "racist." And Mr. Bloomberg's top attack dog, Deputy Mayor Howard Wolfson has piled on, labeling Mr. de Blasio's agenda a "U-turn back to the 70s" that would "undo 12 of the best year's in the city's history."
Still, Mr. Bloomberg offered some advice to the next mayor to keep the city competitive in the global market. "You can't sit there and rest on your laurels," he said, describing some of London's recent innovations as "scary for New York and for other cities."
"We've got to make sure that we don't lose the advantages that we have," the mayor continued. "We've done a lot. The city's a lot better than it was. Hopefully it'll be a lot better in the next few years than it's been in the last few years."
Mr. Bloomberg, who was joined by the mayors of Los Angeles and Perth, Australia, also joked about perhaps upgrading his title to Lord Mayor–like his Australian counterpart.
"We're working on that. That's the next piece of legislation. That'll be popular," he quipped.