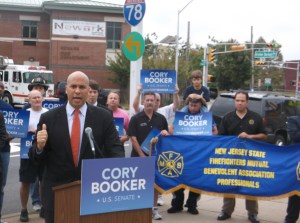 ATLANTIC CITY – There is the scene in Rocky when the favorite, Apollo Creed, gets lectured between rounds by his clearly less-than–pleased trainer: "He doesn't know this is a show. He thinks this is a damn fight."
If it was true that U.S. Senate candidate Cory Booker – as challenger Steve Longan claims – had been taking this race for granted, that he was someone more interested in the celebrity of the office than its substance, then that probably couldn't be said today as he came to this casino town to champion the fight of firefighters facing layoffs as a consequence of the federal government shutdown.
There were no campaign trail stand-ins this time.
Booker stood in front a firehouse this afternoon still shuttered by Superstorm Sandy, and drew a comparison between Lonegan's anti-large government views and the government shutdown he blamed on the Tea Party.
Fifty-one Atlantic City firefighters whose employment depends on a federal SAFER grant application that is not being processed during the shutdown have been sent layoff notices: They are out of work as of Nov. 21.
Booker emphasized that he blames the Tea Party ultra-conservatives for this shutdown, and he drew a line to Lonegan, who he said would carry that shutdown torch if elected in Wednesday's U.S. Senate election.
"We can send a message to Washington'' on Wednesday, when "the country will be watching this special election," Booker said. "Shutdown politics are not New Jersey politics."
While it is true that the layoff talks had begun before the shutdown began, the shutdown threw up a stop sign to processing of the grant extension.
"You can't lay off 51 firefighters and maintain the same level of safety,'' said Sen. Jim Whelan, who welcomed Booker to his Chelsea Heights neighborhood this afternoon as he faces his own re-election in November.
And pointing to the firehouse behind him, he said, "It'll stay closed if we lay these guys off.''
And Mike Emmell, president of IAFF Local 198 Atlantic City Fire Fighters, said that the layoffs will cause the shutdown of six fire trucks within 24 hours in a city of 12 casinos and 125 high-rises.
Booker commiserated with the firefighters, and hammered home the idea that Lonegan is the extremist who would let such emergencies go unaddressed because of his less-is-more approach to government while residents would suffer.
"This is a recipe for a crisis,'' Booker told assembled firefighters and family members as he sought to paint the election as a microcosm of the national scene, a referendum on what kind of problem solver people want in D.C.
On hand were the mayors of Longport, Nick Russo, and of Northfield, Vincent Mazzeo; Jim Schroeder, the Atlantic County Democratic Committee chairman; and freeholder Colin Bell as they stood in solidarity with the firefighters.