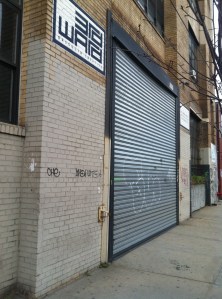 Update 2:01 p.m.: A tipster sent us 3rd Ward's Fundrise campaign to raise $1.5 million in less than a week to keep its studios open. Take a look after the jump.
3rd Ward, the class-offering haven for Brooklyn's artistic set, closed last night without any warning, according to tipsters.

One member whose company is based out of the space wrote in to The Observer:
Apparently there's foreclosure or bankruptcy (rumors are flying), but they are putting it on lockdown tomorrow morning – rumors of shutting down of electricity even by midnight… there's thousands of members that don't know about the shut down, and a huge amount worth of art and personal supplies from Brooklyn members- some of whom have called the studio home for more than 6 years…
update: last staff person is on duty tonight and he just announced wood shop, metal shop, classrooms and photo studio will all be shut down (tonight?) and power cut.
According to 3rd Ward's blog, which last updated on September 10th, the space was opening a pop-up in Chelsea Market. There has been no update alerting members–who pay for either classes or space to house their companies–that the Bushwick studios have been closed down.
We'll be updating this post with more news as it occurs.
Update: According to Fundrise.com, 3rd Ward made itself available to accredited investors (only! Thanks to the new SEC rule that says publicly marketed companies can only be invested in by individuals with "$1,00,000 in net worth (excluding primary residence), $200,000 of personal annual income, and/or $300,000 of joint annual income with a spouse") for a minimum investment of $5,000 to own a piece of this losing-money pie.
According to the site, the reason that 3rd Ward needs this hot cash injection is because it ended up spending too much money on its Philadelphia and Culinary Institute locations:
The current operating losses and cash deficit are primarily due to three factors:
Our revenue at the Brooklyn location fell as a result of a change we made to one of our membership products earlier this year.
The new location in Philadelphia is requiring more capital than expected to achieve profitability or reach cash flow break-even.
The development of the Culinary project required advance spending.
"It was literally shuttered yesterday," said one source, who was able to get their equipment out on time but does not expect to be reimbursed for their year-long membership. "They just mess around with people's lives, because they have all this money they invested in a new location without a business plan."