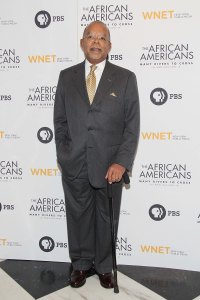 Outside the Paris Theater gathered a who's who of the African-American elite. Stanley Crouch, Ruby Dee, Ron Claiborne, Delaina Dixon, Nikki M James, Beverly Johnson and Harry Carson had all assembled to support the scholar Henry Louis Gates, Jr., whose The African Americans: Many Rivers to Cross is set to premiere on PBS.
The series is a tour de force—a six-part history lesson that spans the search for the Fountain of Youth by a free black man in 1513 to the second inaugural of President Barack Obama, and the 50 or so minutes shown last week powerfully stirred the crowd there to support their friend "Skip" Gates, the director of Harvard's W. E. B. Du Bois Institute for African and African American Research.
But Skip wasn't the only Gates there.
Before the show, before the free popcorn and water, before three-dozen white people took the stage to thank each other for their efforts funding and creating this series, attendees milled about outside the theater.
One couple approached a well-tailored African-American gentleman standing by himself. The wife had the obsequious look of the supplicant, her hands clasped under her chin in the universal gesture of "your work has meant so much to me."
"Dr. Gates, our mutual friend so-and-so told me to find you and say 'hello,'" she said.
"I'm Dr. Gates, but I'm not sure I'm the Dr. Gates you think I am," the man replied.
Come again?
Turns out this Dr. Gates wasn't the professor from Harvard; he was more of an oral surgeon from the Bronx. The couple was mortified by their misidentification. To his credit, the good dentist, Dr. Paul Gates, handled it with kindness and aplomb.
"My brother Skip and I used to joke to our mom that 'we might not be Daddy's sons, but whoever was our daddy it was the same guy.'" And, wow, do they ever look exactly alike. As Professor Gates finally took the stage to deliver his funny and warm remarks, his older brother beamed with pride.