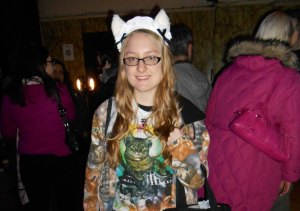 "I'm wearing a tail," a tall man in a dark jacket said into his phone, trying to locate a friend.
He didn't appear to be actively wearing the tail as we walked by. But Tamara Bennett, an ASPCA volunteer I met outside the Nassau G station, reminded me that all we really knew was that he wasn't wearing it "outside his pants."
And, truthfully, the tail probably would have been the lowest key outfit present at the Internet Cat Video Film Festival on Friday night. Filling out the mirror-lined walls of Warsaw's ballroom were cat video fans decked out in fuzzy ears, Betsy "Bright Eyes" Bushytail in full Cats regalia, and some guy who actually brought his own cat because that's what cat fans do, apparently. It stayed perched peacefully on his shoulders the whole night.
But why so many people paid to see over 75 minutes of cat videos they could see on their laptops at home was still puzzling. Lorraine Plourde, an anthropology and media professor at SUNY Purchase, traveled all the way from Westchester to see how this compared to similar events in Japan. She said it's all about using the emotional bonds people have with their pets to get them to interact with each other, which is especially important in big cities where not everyone has the resources to cultivate bonds with furry friends.
Or as the festival's creator, Scott Stulen, told the audience later, "It's not about cats, and it's not about cat videos. It's about watching cat videos together."
Because you cant you can't really train cats to do cute things like dogs, there's more "authenticity in the moment" with cat videos, said David Kim, who came to the event with Ms. Plourde.
And everyone present did seem to be authentic in their love for felines; there was no irony to be found. After chanting "Cats! Cats! Cats!" through a particularly disturbing multi-minute collection of people imitating their cats's meows, and a showing of Will Braden's latest existentialist Henri video, the audience was forced to quiet down so as not to scare off its adorable guest of honor: Lil Bub.
After Bub's owner, Matt, gave quite a serious message about helping pets with disabilities, the actual 75-minutes of curated cat videos started. The first one showed a cat with its head stuck in a flower pot. Yes, the one we've all seen ten times before. Raucous laughter.
There's a free Shakespeare app with all his sonnets, Mr. Braden told the audience at one point. He used it to do research for his slightly higher brow Henri videos.
"Right next to it is an app called Shake Fart," he continued. "That costs a dollar fifty."