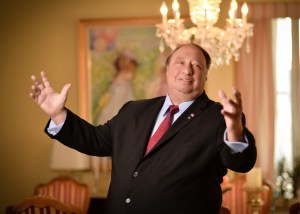 John Catsimatidis is not impressed with his ex-rival's campaign for mayor.
The supermarket and oil magnate, who lost the Republican primary to Joe Lhota earlier this year, briefly discussed his former challenger this morning, telling Politcker he would have run a  far stronger campaign against Democrat Bill de Blasio, who is dominating Mr. Lhota in the polls.
"I would've spent a lot more money and been a lot more competitive," he said in an interview. "I would've had a lot more Democratic support. I think I had a good chance of winning."
Mr. Catsimatidis has technically endorsed Mr. Lhota, according to the ex-candidate's spokesman, but has yet to release any formal statement or appear at an event to boost the candidate.
He also said he was convinced that he could have snagged ex-Mayor Rudy Giuliani's support in the primary, if only things had been just a little bit different and Mr. Lhota, a former deputy mayor in the Giuliani administration, hadn't also been running–or had a slightly different résumé.
"Absolutely," he said when asked about the prospect. "We've known each other many, many years."
In a New York Post story this week entitled, "Is Giuliani turning on Lhota?" Mr. Giuliani was quoted praising Mr. Catsimatidis at a gala for an "honorable race" and seeming to imply his endorsement of Mr. Lhota stemmed from the pair's professional relationship. Mr. Catsimatidis last night posted the article on his Facebook page, which has remained active since his loss and continues to say that he's running for mayor. (Mr. Lhota's campaign didn't immediately return a request for comment, but Mr. Lhota announced today that Mr. Giuliani will be returning tomorrow to join him on the campaign trail.)
Growing wistful, Mr. Catsimatidis said that he missed the campaign trail.
"I was watching, the week before, the parade going by on Fifth Avenue. It was going by without me," he lamented. "I miss the people. I'm a people person. I'm a person who loves people. I walk down the streets and people are still yelling at me, 'I wish you were there!'"
Is he plotting another run for office? "I don't know," he mused. "You think they're any dog catcher positions available?"