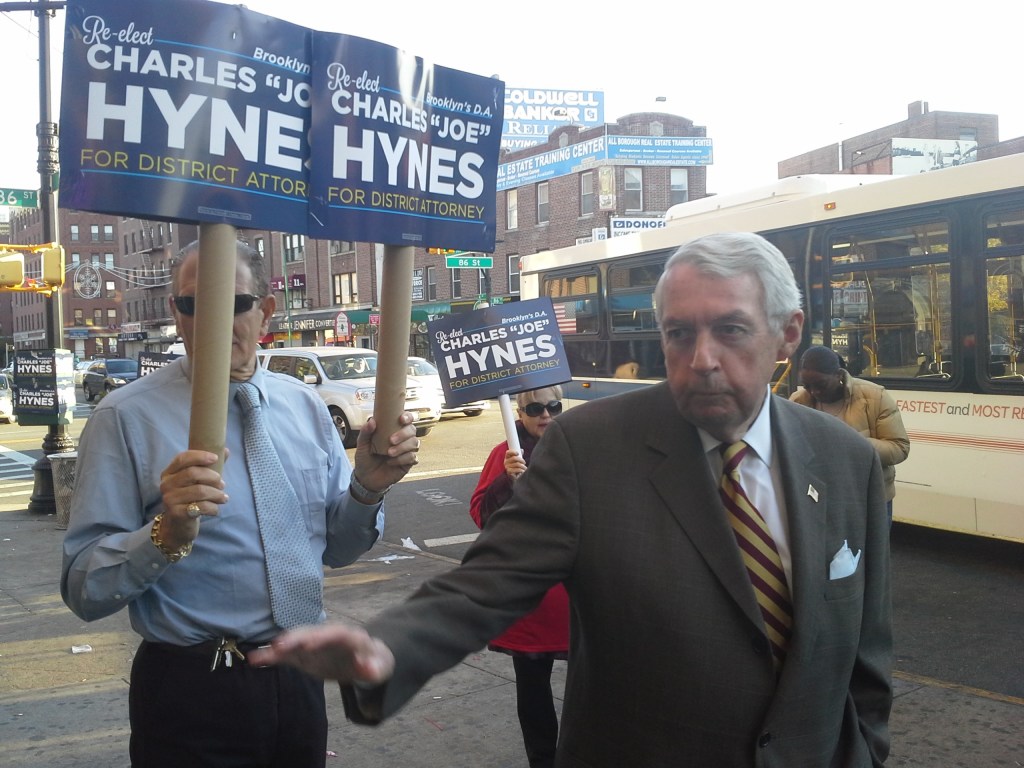 What do a seminal 1990's sitcom and Ken Thompson's campaign to become Brooklyn's next district attorney have in common? Plenty, according to incumbent D.A. Charles Hynes.
"Ken Thompson's campaign is like a Seinfeld episode," Mr. Hynes charged at a campaign stop this morning. "It's a campaign about nothing because he has no experience."
Mr. Hynes was campaigning with volunteers outside of a Brooklyn subway stop at the beginning of a borough-wide bus tour planned for today. As the hulking bus adorned with his image idled nearby, Mr. Hynes greeted commuters in Bay Ridge, one of the politically moderate neighborhoods he is targeting as he seeks re-election on the Republican and Conservative party lines in an overwhelmingly Democratic borough.
Between hitting his rival, Mr. Hynes also took time to defend himself in the face of several controversies that have emerged on the campaign trail in recent days.
Among them: An allegation from Mr. Thompson's supporters that a recent ad in Yiddish-language weekly newspapers amounted to racist fear-mongering because it charged that a lawless "minority" element had elected Mr. Thompson, who is vying to become the borough's first black district attorney. Several Thompson backers, including Democratic members of Congress and Assemblyman Dov Hikind, held a press conference yesterday slamming Mr. Hynes for the ads–but Mr. Hynes insisted today that he had nothing to do with them.
"It's not my advertisement. I didn't put it in. I had no control over the content," Mr. Hynes told Politicker. "What I was told was that the minority word refers to turnout and not African-Americans. I had nothing to do with the ad." (Mr. Hynes also criticized Mr. Hikind over his Purim costume controversy earlier this year: "This is the guy who has blackface? Nobody pays any attention to Dov Hikind. Dov Hikind's a relatively mature man wearing blackface.")
Mr. Hynes further dismissed a BuzzFeed report that accused one of his allies, Sol Wachtler, of using an anti-black Yiddish slur in emails with Mr. Hynes.
"That I would seriously allow anyone to use that derogatory term in my presence without condemning them–it's an outrage," Mr. Hynes said, claiming a hacker had obtained and altered the emails. "There's no question that the hacker who hacked into my account substituted those words to embarrass Judge Wachtler and me."
Mr. Thompson's campaign, which accused Mr. Hynes of outright lying, however, was not amused.
"It's simply unconscionable that a convicted felon advising Republican Joe Hynes' campaign used a disgusting racial slur to degrade Democrat Ken Thompson," Thompson spokesman James Freedland said.  "With this kind of judgment and character, it's clear that Republican Joe Hynes is unfit to continue to serve as DA."
Watch Mr. Hynes's campaign stop this morning, video via Jacob Kornbluh:
[youtube=http://www.youtube.com/watch?v=EQ7XjwAP0Kw&w=420&h=315]