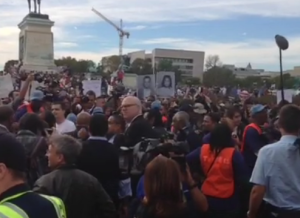 New York Congressmen Charlie Rangel and Joe Crowley were among eight federal lawmakers reportedly arrested at an immigration reform rally in Washington D.C. earlier this evening.
The rally, intended to push Congress into passing comprehensive legislation tackling the immigration issue, drew hundreds of activists to the National Mall. According to organizers, 200 were deliberately arrested in total for blocking the street.
In addition to Mr. Rangel and Mr. Crowley, John Lewis of Georgia, Luis Gutiérrez and Jan Schakowsky of Illinois, Raúl Grijalva of Arizona, Keith Ellison of Minnesota and Al Green of Texas were also reportedly taken into custody by Capitol Police. All eight are Democrats.
The Daily News reported Mr. Rangel argued with the officers and requested they loosen his cuffs while further "arguing about the process." In a notice to reporters this evening, Mr. Rangel's office wrote, "At this time, it is unclear when he will be released."
Of course, New York political observers are no stranger to deliberate arrests as a political tactic. Mayoral front-runner Bill de Blasio joined other local officials in getting arrested at a hospital closing protest earlier this year.