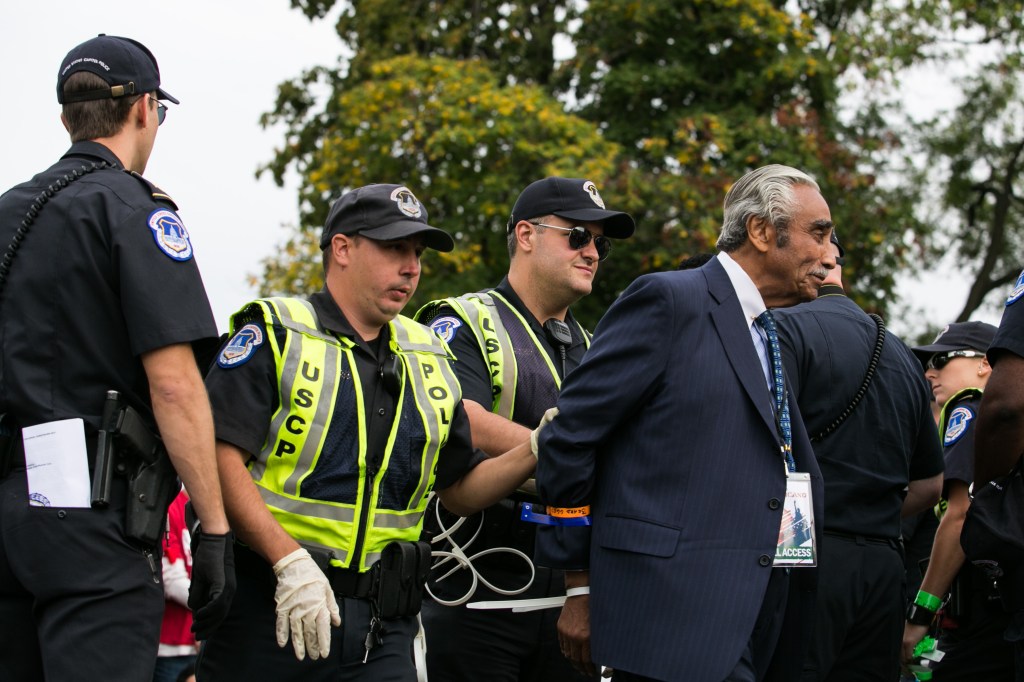 "I didn't get up in the morning ready to go to jail," Charlie Rangel told Politicker today.
"I went to speak to the throngs of people and to give them encouragement," he said. "Some people recognized me and asked me if I would get arrested with them: 'Why won't you, are you with us?' I thought there'd be enough younger people getting arrested rather than me but I couldn't walk away."
And so Mr. Rangel was arrested, along with his New York colleague Joe Crowley and six other congressmen at an immigration reform rally yesterday evening. In total, 200 activists were deliberately apprehended as they gathered on the National Mall to ramp up pressure on Congress to pass comprehensive immigration legislation reform, according to organizers.
In a phone interview, Mr. Rangel said he was thrilled the arrests brought national attention to the cause of immigration reform but said that he was less-than-satisfied with his own dealings with Washington police.
"It was a pretty long and drawn-out process, especially since the operation was conducted by [the] Capitol Police. Quite frankly, we expect more courtesy," said Mr. Rangel, who has been arrested many times before. "I had a problem with how tight they put the handcuffs on. Also, no one could explain to me why it took three hours to search us, fill out an application, take pictures, fingerprints and pay the $50 fine."
Mr. Rangel said that, during previous arrests, "it's never taken more than 30 minutes."
"No explanation. It almost appeared as though they were penalizing us for having a protest arrest," he added. "Most of the time it was asking, 'Who do I talk to? Who do I talk to? Who's in charge?' Everyone says, 'I know how you feel, that's all I can tell you. It takes time to process these cases.'"
But the arrest experience, at least for Mr. Crowley, was far less dismal.
"We marched a number of blocks arm and arm. We got to 1st Street, in front of the Capitol. We were asked to disperse and refused to disperse," said Mr. Crowley, who told Politicker he'd never been arrested before. "We had worked and talked about this. We were well aware of the possibility of being arrested. Capital police were well aware."
Like Mr. Rangel, Mr. Crowley said he hoped that, despite the government shutdown and gridlock in Congress, the arrests would put immigration reform back in the spotlight.
"We need to walk and chew gum at the same time in Congress," he declared. "The shutdown leaves little time to occupy for other issues. It limits our ability to have hearings and do our job."