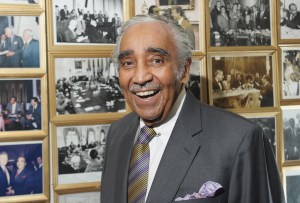 Congressman Charlie Rangel has never been shy about criticizing his conservative colleagues in Washington, but he was reluctant to criticize Republican mayoral hopeful Joe Lhota today.
"I don't want to be critical of Joe Lhota. I think that his association with the Republican party is a heavy enough load for him to carry without me being negative about his campaign," the congressman told Politicker during a phone interview today when asked for his take on the race.
Mr. Lhota remains more than 40 points behind Democrat Bill de Blasio in the polls less than two weeks before Election Day. And Mr. Rangel suggested that Mr. Lhota's alleged affiliation with the Washington wing of his party–which took the brunt of criticism for the recent government shutdown and near debt-ceiling default–was largely to blame.
"As far as I can see, he's spending most of his time dissociating himself from the national Republicans," said Mr. Rangel, who stressed the label was a hard one to shake.
Mr. de Blasio has repeatedly sought to tie Mr. Lhota to the Tea Party, often to the frustration of Mr. Lhota, who at a Tuesday debate declared, "You talk so much about tea, you remind me of the Mad Hatter."
Mr. Rangel–who endorsed Bill Thompson in the Democratic primary but has a long-time relationship with Mr. de Blasio–also bit his tongue when it came to Mr. Lhota's controversial new ad, which uses images of body bags and the Crown Heights Riots to threaten the return of high crime and mayhem if Mr. de Blasio is elected mayor. (Mr. de Blasio has slammed the ad as "race-baiting" and "fear-mongering.")
Pressed, the congressmen picked his words carefully.
"They were not very tasteful," he said.