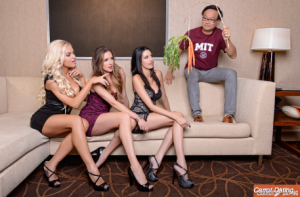 Some dating apps rely on distance, others rely on looks, but then there's Carrot. It's a new dating app that allows men to drop any game they may have and lets them procure dates with women using bribes.
As picked up by Business Insider, the app says bribery is the only form of manipulation that has "stood the test of time." If you had Oct. 18, 2013 as the date that chivalry died, then congratulations. Declaring "messaging and hoping" as passé, men scroll through a grid of available ladies they hope to quickly alienate. Once they settle on one, they can select from five bribe-worthy categories, like gifts or activities. Nothing lights that fire faster than a free tank of gas, huh?
The app is available for free in the iTunes App store and Google Play marketplace.
A quick peek of the promo video shows that jewelry, plastic surgery and concert tickets are the keys to a women's heart. Glad we have that cracked. Carrot's creator, Brandon Wade believes that dangling the right carrot in front of a woman gives you the power to date your first choice. Save that mindless chattering for Tinder, you objects.