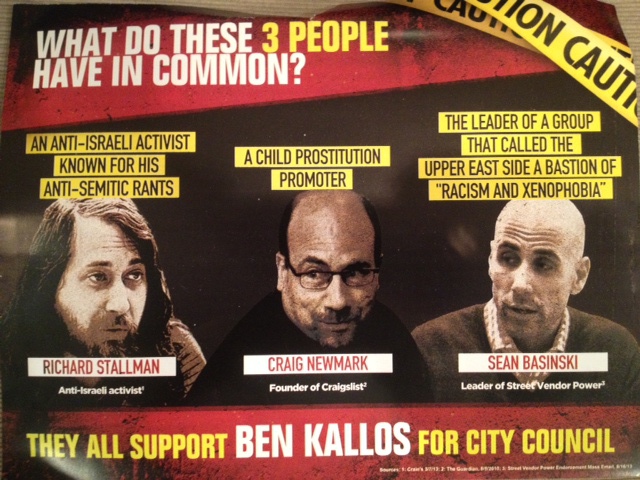 Well, that escalated quickly.
Anonymous mailers currently being circulated on the Upper East Side attack City Council candidate Ben Kallos for being endorsed by Craig Newmark, the founder of Craigslist–or in the words of the mailer, "a child prostitution promoter"–among other charges.
Over the years, Craigslist has weathered criticism that its website enables sex traffickers, but Mr. Newmark does not actively promote child prostitution as suggested in the ad.
The mailer also attacks Mr. Kallos for being endorsed by a software-freedom activist (who is described as an "anti-Israel activist" in the mailer) and a street vendor organizer (who is labeled as the "leader of a group that called the Upper East Side a bastion of 'racism and xenophobia.'").
"Ben Kallos is reckless and irresponsible … Our families can't afford Ben Kallos," the ad concludes.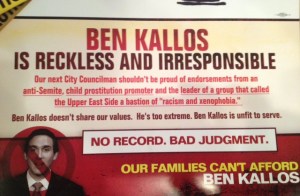 Mr. Kallos won the Democratic primary for the district last month, defeating Assemblyman Micah Kellner in a highly-charged campaign–which included anonymous Kallos mailers skewering Mr. Kellner. Mr. Kellner, however, is still on the November ballot under the Working Families Party line and is continuing his campaign, though the WFP endorsed Mr. Kallos and has called on Mr. Kellner to withdraw.
Mr. Newmark and the technology activist, Richard Stallman, could not immediately be reached for comment. But Sean Basinski, the founder of the Street Vendor Project, said the "racism and xenophobia" charge was "absurd."
"I live [in the district] by the way," Mr. Basinski said in a brief interview, "so I'm well qualified to know about that. I've been to the community board meetings there. I know there's a lot of that still in the neighborhood. It's actually a small percentage of the neighborhood … There's no doubt that it's probably the most unfriendly neighborhood to street vendors, though."
Politicker was initially unable to find the reference, but after publication, a source forwarded a Kallos endorsement email from Mr. Basinski, which contained the "racism and xenophobia" phrase as the anti-Kallos mailer described it but with the word "anti-vendor" in front.
Mr. Kellner did not immediately return a request for comment Friday but Kallos spokeswoman Sarah Anders denounced the mailers.
"It's disturbing that distortions and all-out lies are going out to voters. Ben grew up here and loves the Upper East Side. He's a practicing Jew whose grandparents fled anti-Semitism in Europe," Ms. Anders said in a statement. "Unfortunately, this is what we've come to expect from this unhinged campaign."
Republican David Garland is also vying for the seat.
Update (7:15 p.m.): With the email cited in the mailer.