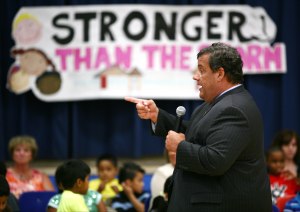 TRENTON – Hypocrites.
That's the word Gov. Chris Christie used to describe U.S. lawmakers who voted against providing federal relief aid to the Garden State after Superstorm Sandy, but recently requested relief for their own constituents after being faced with their own natural disaster crisis.
Christie was asked his thoughts during a tele-town hall meeting Thursday evening about Colorado lawmakers who requested federal aid following devastating flooding in the Midwest. Some of the lawmakers requesting the aid were the very ones who opposed sending federal dollars to New Jersey nearly a year ago when Sandy slammed into the Jersey coast, Christie said.
"They are hypocrites. That's what they are," he said. "There's no other way to put it."
The governor quickly turned the focus to New Jersey's congressional delegation who supported sending aid to Colorado.
"I'm proud of the New Jersey members of Congress who stood up and said we're going to help Colorado," he said. "We can't be vindictive because what we've got to be concerned about is the actual people who are being hurt."