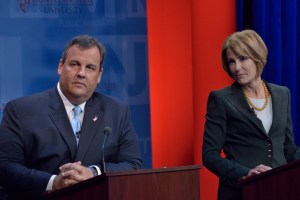 MONTCLAIR – The form of the question may have changed this time, but just like last week, Gov. Chris Christie didn't take the presidential bait.
Instead of asking Christie directly whether he planned to make a run for the White House in 2016, debate moderator Mike Schneider took a different approach Tuesday evening. The NJTV news man asked the governor whether governing the state of New Jersey and running for president at the same time was even possible given the pressures of both jobs.
"I don't know, Michael, because I've never run for president," Christie responded before repeating what he said a week ago during the first gubernatorial debate.
"My promise to [New Jerseyans] is I will do the job the exact same way regardless of whatever else comes," he said.