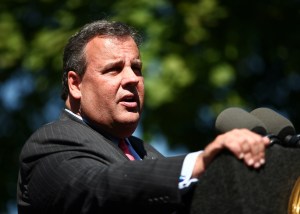 EAST BRUNSWICK – Hours before Chris Christie is set to appear under the spotlight and debate his Democratic challenger, New Jersey's incumbent governor brought the race to Barbara Buono's home turf.
"Why are we winning?" Christie asked a packed room that serves as his East Brunswick campaign's so-called "victory office."
"Because we do the job better," he declared in Buono's legislative district.
"We're a minority party in the state," said Christie, telling everyone in the room nothing they didn't know, but explaining a solid win in November's election would draw people from all over the country to look at New Jersey to see how the state's Republican governor swept an election in a blue state.
"This is an incredibly impressive operation," Christie said.
The governor made a campaign stop here Tuesday afternoon in a legislative district he carried in his race against former Gov. Jon Corzine.
But since then, the district maps have been redrawn and LD 18 altered. And now, Christie hopes to again take the district and bring with it additional GOP lawmakers to Trenton.
"One of the reasons I'm running in the first place is because there are reforms that are needed in this state," said East Brunswick Mayor David Stahl, who's battling to pick up Buono's vacated Senate seat.
Stahl, a former Democrat who switched political parties to run for the seat, was in attendance at Christie's campaign stop. Like Christie, Stahl spoke about the importance of people from both political parties being able to work together – a common theme in Christie's campaign.
"You have, in my opinion, the inability for the parties to work together," he said.
Christie and Buono are slated to debate at 7 p.m. The hour-long event will be broadcast live on CBS.