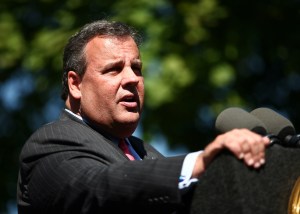 In a signal that suggests Gov. Chris Christie believes Republicans can add GOP lawmakers to the state Senate, the governor is readying to inject resources into three Senate hopefuls' campaigns.
The governor's campaign announced with less than a week to go until the November election that Christie will invest time and money in races in legislative districts 14, 18 and 38. The resources include cable television ad buys, mailers and robo-calls paid for by the popular incumbent governor, as well as a dozen campaign stops across the three districts as Christie and his running mate embark on a re-election bus tour.
Despite declining to discuss exactly how much funding the governor plans to invest into the races, a campaign spokesman, Kevin Roberts, said the support is evidence that Christie believes the Republican minority in the Senate has room for growth.
"We've maintained from early on in this campaign that there was a lot of opportunity for pickups in the Legislature," Roberts said. "And based on polling data and other factors, we believe that investments from the governor – both financial and of his time – in these districts have the opportunity to put us over the line."
In LD 14, Christie is throwing an arm around former Sen. Pete Inverso, who's battling to oust Democratic incumbent Sen. Linda Greenstein.
"I need Pete Inverso to help us keep lowering property taxes and to keep New Jersey moving forward," Christie says in a television ad set to air as soon as today.
"Despite what Linda Greenstein says, she's a partisan politician who has opposed my efforts at every turn," Christie says, according to an ad script. "Pete Inverso is a bipartisan leader who's going to make a great state senator."
Similar ads will also hit the airwaves in Sen. Bob Gordon's LD 38, where the Democrat faces a challenge from GOP attorney Fernando Alonso, and in LD 18, where Democratic Assemblyman Peter Barnes III hopes to grab Sen. Barbara Buono's Senate seat as long as East Brunswick Democratic mayor turned Republican, David Stahl, doesn't beat him to it.
The campaign resources from the governor come as Christie has focused largely on his own re-election bid against Buono, the state's Democratic gubernatorial hopeful whose campaign has consistently lagged in the polls.
In addition to providing funding, Christie's bus tour will make five stops in the districts (two slated for LD 38, two for LD 14 and one stop scheduled in LD 18) and Lt. Gov. Kim Guadagno will make an additional nine stops in the districts.
Christie has already held fundraisers for each of the three GOP Senate hopefuls.