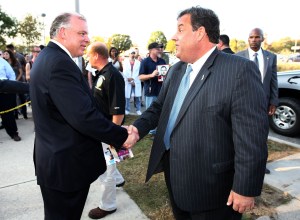 The last time the two shared the spotlight they were together earlier this week in South Jersey. Today, it was Middlesex County.
Republican Gov. Chris Christie and Democratic Senate President Steve Sweeney smiled for the cameras Wednesday at a joint appearance with less than two weeks before the November election. The stage for the bipartisan event was set in Middlesex County, which, notably, is Christie's opponent's home turf and a frequent stop on the governor's campaign trail for the incumbent and his lieutenant governor.
Christie and Sweeney were on hand for the groundbreaking ceremony of Woodbridge's Competitive Power Ventures Woodbridge Energy Center. Earlier this week, both men were on Sweeney's turf in South Jersey's Gloucester County for a groundbreaking ceremony on a $4 million adult transition center.
But, again, today's event was about bipartisanship.
"This project happened on a bipartisan basis with the state and town working together with the private sector to bring hundreds of construction jobs, dozens of permanent jobs and millions of dollars of revenue," said Woodbridge Mayor John McCormac.
Christie, who carried Middlesex in his first gubernatorial race against former Gov. Jon Corzine, is no stranger to the area. Aside from numerous appearances by him and his running mate, Lt. Gov. Kim Guadagno, over the recent weeks and his time in office, Christie appeared on Democratic challenger Sen. Barbara Buono's home turf in the lead-up to the first gubernatorial debate.
(Of course, immediately after defeating Corzine at the polls Christie did a victory lap of sorts in the streets of Woodbridge.)