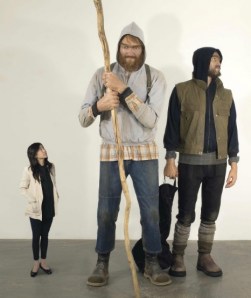 The Financial Times reports that Charles Saatchi's "everything must go" sale of large sculpture at Christie's, marketed as "Thinking Big," did not meet anyone's expectations, with many pieces selling for just a fraction of their reported value.
The sale was motivated by storage costs and dealers were unhappy with Mr. Saatchi's approach, all too happy to tell reporter Cristina Ruiz that Mr. Saatchi could have done better on the private market.
From the story:
Saatchi's was a "strong-arm tactic", says Simon Lee, whose gallery represents Toby Ziegler, one of the artists included in the sale: it seemed deliberately designed to force dealers into bidding to support their artists' prices.

Ziegler's huge twin sculptures of abstracted Staffordshire pottery dogs made from intersecting cardboard panels sold for £15,000 at Thinking Big, "around half" the price Saatchi paid for the work when he bought it from Lee in 2008. This is a situation described by one art adviser as "the kiss of death" for an artist's career.
Read more here.