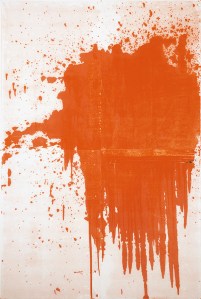 Christopher Wool's paintings constitute a visual philosophy. A lot of what they are is defined by what they are not. They are not horizontal. They are rarely colorful, and, if they are, often only one color is used. They are not messy or gratuitous. They are not figurative. They are not pretty. They are not effusive. There is a moral aspect to their rigor.
Mr. Wool's enamel and silkscreen on linen works hover between Jasper Johns's strict stenciled letters and a spidery spray-painted graffiti scrawl. If you squint at the Guggenheim rotunda, where the majority of the show's works hang, Andy Warhol is in there, and Jackson Pollock, too. Mr. Wool's earliest paintings are made from decorative enamel and Flashe on aluminum—tough materials. They are often of words, all in caps ("IF YOU CAN/T TAKE A JOKE YOU/CAN GET THE/THE FUCK/OUT OF/MY HOUSE") or cartoonish flowers. Later, silkscreens of Ab-Ex painted marks blur the distinction between the hand-painted and the mechanically reproduced gesture.
It's good, serious painting—a little hard on itself and a little restrictive, with the single tight format and the gray, black and white palette. There is nothing added that doesn't need to be there. Mr. Wool's preferred painting technique is the erase. If you look at the work of Richard Pousette-Dart, Mr. Wool's painting teacher at Sarah Lawrence College in the 1970s, you see Ab-Ex skeins turning to decorative dots of pure color. Mr. Wool's work suggests that the nihilist swipe is the move his generation could add to painting.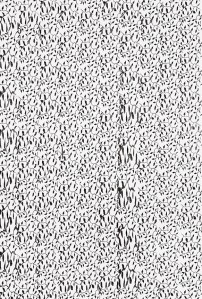 In this show, curated by Katherine Brinson, flurries of Mr. Wool's small black and white photographs of New York's gritty downtown neighborhoods punctuate the handsome display of his large vertical paintings. The era the show speaks to is late-1980s and early 1990s New York. Mr. Wool, who is now 58, emerged during this time; although his peers are Richard Kern and Rita Ackerman, his cohort is Harmony Korine, Chloe Sevigny and John Kelsey. That the auction market has recently taken up the work is symptomatic of nostalgia for a New York that is irrevocably gone—a city of CBGBs, graffiti, low downtown rents and studio apartments with long rows of steel and brass locks lining the doorframe. (Apparently, they are also priced like rent-stabilized apartments—according to The Art Newspaper, Mr. Wool keeps his prices well below market value. If this is true, it is a quixotic gesture entirely of a piece with the political moment from which they emerge—the art world's equivalent of a $5 Fugazi show.)
Mr. Wool is a tough, post-punk painter. His paintings, like those black-and-white photographs, evoke much with a modicum of means. They had me making lists: what to change in my life and what to keep. They suggest that we could all throw a lot away but that what is essential can continue. If the paintings don't always hit it out of the park, it is because they take so much into account. These paintings are aware of every argument you can make against painting, but they persist. (Through Jan. 22, 2014)