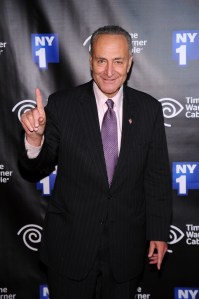 President Barack Obama's helicopter landed in Prospect Park today–"kicking up a large cloud of dust and debris, including leaves, grass, sand and at least one gray t-shirt," according to a pool report–and for Senator Chuck Schumer, it was quite the moment.
Mr. Schumer, who lives next to the park, was on hand to great Mr. Obama when he landed and subsequently released a statement on the occasion.
"As it is for so many Brooklynites, Prospect Park has long been my front yard — the place where I relax and where I taught my daughters to throw a baseball — and it is an honor to receive the President here," said Mr. Schumer.
New York's senior senator further said the event spoke to the growing "power and attraction of Brooklyn."
"There has been a lot of talk about the power and attraction of Brooklyn these days, but when the leader of the free world comes, you know it's real," he reflected. "Growing up in Brooklyn I never thought I'd see the day when a presidential helicopter touched down in one of our parks, but today I saw just that with my own two eyes."
Mr. Obama is making the rare visit to the borough to speak on the "Next Generation of Middle Class American Workers and Entrepreneurs," according to the White House.
The event can be watched here.