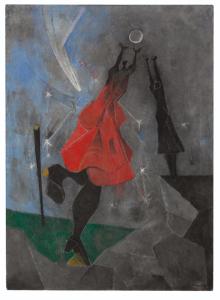 Today Christie's announced that its upcoming Latin American Art evening sale will feature two works from the Cleveland Museum of Art: Rufino Tamayo's Women Reaching For the Moon (1946), which will lead the auction, and Roberto Matta's La Rosa (1943).
The announcement comes on the heels of news that David Franklin, the museum's director of three years, has resigned. In 2011 the Museum of Modern Art sold a record-breaking Tamayo for $2.2 million.
The Christie's release follows:
On November 19, Christie's Evening Sale of Latin American Art will be led by Rufino Tamayo's Women Reaching for the Moon (illustrated left, estimate: $1,200,000-1,800,000), which hails from the Cleveland Museum of Art and has been exhibited internationally at such renowned institutions as the Guggenheim Museum in New York, The Phillips Collection in Washington D.C., and Museo Nacional de Artes in Mexico City, among others. La Rosa by Matta (estimate: $250,000-350,000) will also be sold on behalf of the museum and proceeds from both works will benefit future acquisitions. Please click here for the complete release.