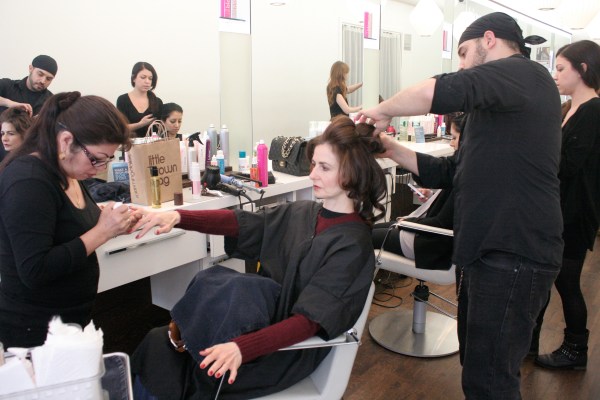 According to Dr. Vivian Diller, most people The Observer knows are seriously ill. The psychologist and author believes that anyone who pursues activities that lead to pleasure — like manis, pedis, facials or or massages — could easily become an addict.
So don't give money to panhandlers — they're just going to blow it all on a French manicure!
Dr. Diller, in her article on HuffPo, said she discovered beauty addiction when a patient skipped her therapy appointment for a blowout because her salon was running behind schedule. "We had other more serious problems to discuss…I knew, in fact, this had become one of them," Dr. Diller explained.
But who hasn't prescribed a day at the salon to someone wrestling dude troubles? To imply that any stress-reducer is addictive is aggressively broad. Dr. Diller cautions that "many deeply satisfying activities have the potential to become habitual. Pleasurable experiences naturally lead to the desire for more, so we yearn for repetition." Um, kinda like weekly therapy sessions?
Then Dr. Diller does something odd. She talks about the legitimate economic and social pressures to look hot, and how the satisfaction gleaned from good results can be significant. Add that to the tight bonds you can develop with a stylist you visit often, and you have a tone-deaf piece of alarmism a harrowing addiction. (If you let your roots grow out a bit, do you get to keep custody of your kids?)
"We don't have to 'just say no,'" Dr. Diller concludes, "but we may have to say 'yes' just a little less often."
Just like all those social heroin users.